Senior Vice President for Huawei Addresses USA Community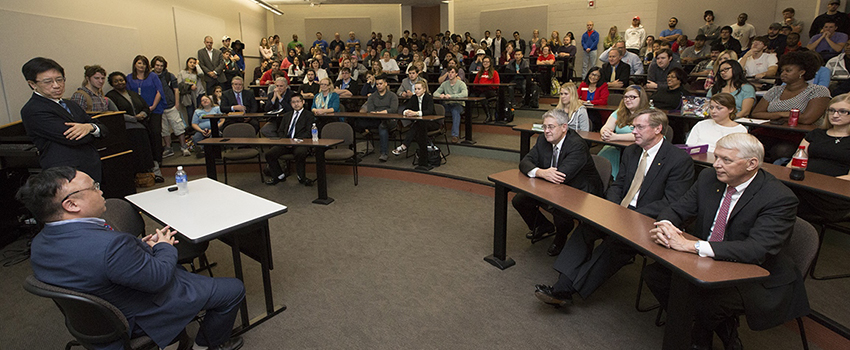 Zheng Baoyong, Senior Vice President for Huawei, a leading global ICT solutions provider, that builds IT devices and solutions for enterprises and consumers, spoke to the USA community in the Mitchell College of Business Thursday November 19, 2015.
There was no standing room available as students, faculty, and staff packed the largest classroom in the MCOB to hear Mr. Zheng address the USA community. In his address, Mr. Zheng explained the exponential growth of Huawei, which was facilitated by company leaders' decision to maintain the company as an employee owned enterprise. Chinese officials had approached the company officers, suggesting company stock should be publicly trade, but Mr. Zheng and other company officers did not think becoming a public company was a prudent decision. They noticed that other publically traded companies had been forced to divest business interests at the behest of shareholders. Thus, Huawei's leaders refused to become publically traded and continued to finance the company's growth with private capital. Being privately held offered other advantages, however. During the recent economic downtown, the company had the leverage needed to move quickly to take advantage of market conditions. Also, because they offered ownership in the company, Huawei has been able to select the best and the brightest employees, some of whom were dismissed by competitors.
Huawei is a socially responsible company that focuses on enhancing the social fabric of communities around the world. A primary objective is to make and market devices, bandwidth, and consumer products that are affordable for all. The company is also investing to improve the infrastructure and ecosystems of the communities in which they operate. For example, the company is investing to build sewer facilities for communities in a rural community in Alabama and improve the availability of safe drinking water in less-developed countries of the world.