Student Spotlight Micah Calhoun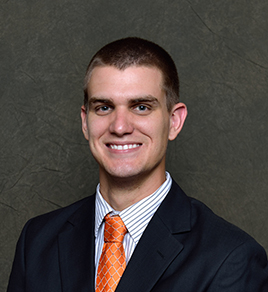 I am a senior finance major at the University of South Alabama. I was born in Newark, DE but came to Mobile when I was 5 years old. I started at Faith Academy in kindergarten and in 2011 graduated from there with honors. The main reason I initially pursued the University of South Alabama was because my parents both were college graduates and they thought it necessary for me to go. South Alabama was the closest university to home so it was the obvious choice for me.
On my first day of classes at South Alabama I found out that I would be a father. Obviously this was not an ideal situation. I immediately had to grow up, become a man and dig deep to finish school while working a full time and part time job. Since then I married the mother of our first child, Mathis, and had a second boy Macoy. Going back to my earlier statement of why I picked South, I could not be happier with my decision. Honestly I was lucky to have picked such a great school since I initially did not want to go to college. The professors are amazing here, especially in the Mitchell College of Business. Dr. Hunsader, Dr. Lahtinen, and Dr. Sharland amongst others have truly made it possible for me to push myself to not only receive a degree, but to also participate real world activities that will be beneficial when I enter the workforce.
Some of the activities I have been able to participate in are the Jaguar Investment Fund and the AAE Airbus Innovation Showdown, which we placed first (Go Jags!). I am finishing up my time at South Alabama and if I could give one word of advice to upcoming freshman it would be to reach out to your professors, build relationships, and be willing to go the extra mile when called upon in every aspect of your college career.