Student Entrepreneurs Compete in first Causeway Pitch Competition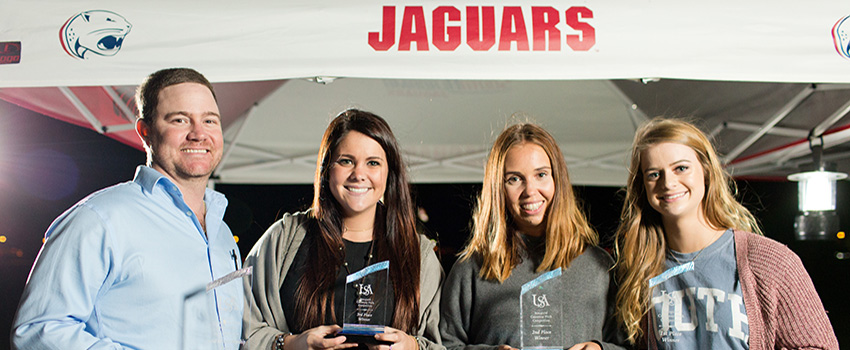 Winners in the photo from right to left are Kobi Bell , Raphaela Reiner, Blakney Barrett (all MCOB Students), and Mike Jeffries (Geography)
The Melton Center for Entrepreneurship and Innovation (MCEI) hosted the first Causeway Pitch Competition on Veteran's Day at the USS Alabama Battleship Memorial Park. The Causeway Pitch Competition is an elevator pitch competition with a twist. Instead of giving an elevator pitch on an elevator or in a stuffy office, students persuaded Mobile's best business minds to invest in their business ideas while riding the Causeway in a Gulf Coast Duck Boat. Yes, a duck boat!
Thirty five student teams applied to compete and the day of the event, 22 teams competed for $2,000 in prizes. The competitors were a diverse mix, including students from biology, nursing, the school of computing, engineering, and graphic design, as well as our entrepreneurship and business students. While the entrepreneurship students prepared all semester, the MCEI conducted eight pitch bootcamps for the non-business students to teach them how to pitch and to sharpen their skills. The winners were:
Kobi Bell, 1st Place, Hygiene Dispenser (Mitchell College of Business)
Raphaela Reiner, 2nd Place, Student Cars (Mitchell College of Business)
Blakney Barrett, 3rd Place, Climax (Mitchell College of Business)
Mike Jeffries, Social Entrepreneurship, Dog park with water access
Based on the feedback from the participants and judges, the event was a tremendous success. We are taking their suggestions and are planning to make next year's Causeway Pitch Competition bigger and better!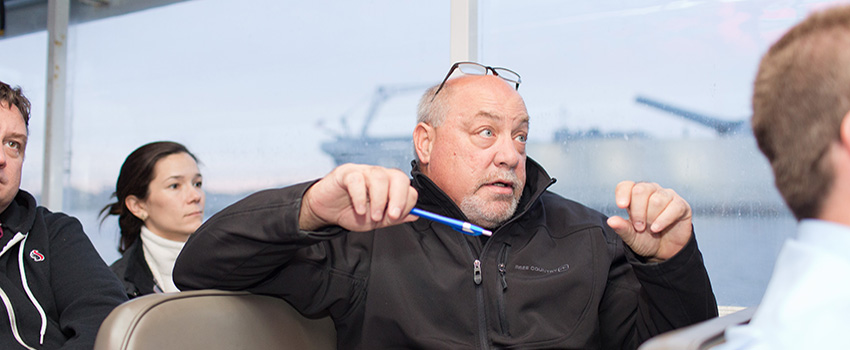 The photo above shows Jeff Marcus, Executive Director of the Mobile Arts Council and Hayley van Antwerp, Executive Director of the Innovation PortAL, both MCEI Board members and judges for the competition.