Sonya L. Clark, Ed.D., is the new Director of the Professional Readiness Engagement Program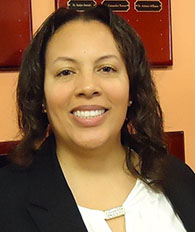 Sonya L. Clark, Ed.D., is the new Director of the Professional Readiness Engagement Program in the MCOB. Dr. Clark has a management career spanning over 15 years in the DC/MD/VA area, and most recently, as the first Training Coordinator for the Department of Communications at Alabama State University (ASU) in Montgomery, Ala. where for over seven years she provided professional development workshops, internship placement and career planning to undergraduates.
Clark earned her doctorate in Educational Leadership, Policy & Law from ASU and holds Master's degrees in Applied Management and Human Resources Management from Troy University. Her undergraduate degree is a Bachelor of Arts in Communications with an emphasis in Print Journalism. Her desire is to work with others to help them to conceptualize and achieve their career goals.
The new Professional Readiness Engagement Program in the Mitchell College of Business at the University of South Alabama will prepare students for transition into, and success in, the global economy. This will be done through the delivery of quality experiential activities and advanced educational opportunities, mainly required professional development courses, internships and mentoring experiences, and workshops. This program is unique among our peer and aspirant schools with the breadth of requirements and will enhance the reputation of not only the Mitchell College of Business but also the University of South Alabama. In addition, it is expected that the program will directly:
Better prepare the students for transition into the workforce by strengthening requisite soft skills.
Strengthen the relationship between current and potential local, regional, and national employers by better meeting their skill set needs.
Directly engage members of the community and other constituents as mentors/participants in program activities.
Increase the MCOB and USA footprint by the creation of a unique and timely program.
We are looking for businesses who would like to participate and professionals who are interested in mentoring opportunities.
Quote: "The one thing that I want our students to take from this is the Mitchell College of Business supports its students. Dean Wood had the foresight to see what our students need to compete and created the PREP program to prepare our students. We want you to have every opportunity to be competitive in an ever-changing global society. As students, you've done what you were supposed to do: gone to classes, earned the grades, and learned what we said was important. Now, we are going to help you transition into the workplace. I'm excited for this opportunity and am expecting to hear our students' success stories and how PREP was an important part of that success."