MCOB Student Participate in Costa Rica Study Abroad Program May 2016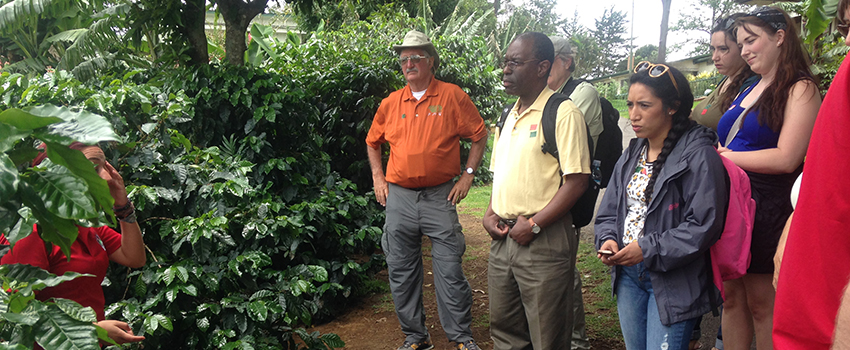 The Costa Rica Study Abroad experience provided an overview of the unique economic, business, social, and cultural dimensions of Costa Rica as a dynamic and emerging economy. Seven USA students, including one MBA student, participated in this groundbreaking study abroad experience during the May mini-semester. The opportunity to see business in action in a totally different environment was the driving force behind the program.
The course offered particular focus on sustainability. Students enjoyed professional visits to the Doka Coffee Plantation and the Manuel Antonio National Park reinforcing the concept of sustainability as a key value in business and tourism development in Costa Rica.
Through a series of background readings, structured company visits, and interaction with local business leaders, students gained increased appreciation for the diversity of business practices in emerging economies. The three components of the course were: (1) the preparation phase which included assigned readings, selected to familiarize students with the Costa Rican culture and economy; (2) followed by in-country visits to businesses, governmental entities, and non-government agencies; and (3) concluding with an integrative project, a debriefing and assessment exercise.
In-depth presentations on the Costa Rican economy at CINDE (Costa Rican Investment Promotion Agency) and AMCHAM (Costa Rican – American Chamber of Commerce) provided considerable insight on the nuances of promoting economic development and investment in the country. Cultural visits to Jaco Beach and the associated surfing organizations offered an insider's view of the challenges and opportunities in the surfing industry. Visits to Veritas University, national museums, and historical sights rounded out the seven-day on-site portion of the program. Overall, the course offered a comprehensive, well-integrated set of learning experiences for MCOB students. Given the very positive student assessment of the program, plans are currently underway for a Costa Rica – Panama Study Abroad Program for May 2017. Interested students should contact Dr. Alvin Williams (awilliams@southalabama.edu).
Contributed by Dr. Alvin Williams.