Student Spotlight Joshua Crownover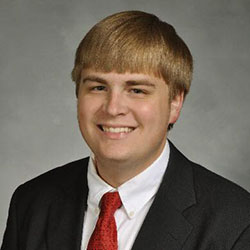 My name is Josh Crownover and I am a Junior majoring in Finance in the Mitchell College of Business. I have the extraordinary opportunity to be a Mitchell Scholar. The scholarship is named after Mr. Abraham Mitchell, who endowed the scholarship fund. I also have the pleasure of serving as a Mitchell Ambassador, representing the College to internal and external constituencies, including community business leaders and students, and I also represent the student body at the University of South Alabama as the President of the Student Government Association.
I have always been one to keep busy, so I enjoy having a hand in many of the activities around campus. Serving as the Student Government Association President provides opportunities to work with upper administration, to help make the student experience the best it can be. I also am very excited about all of the great things the Mitchell College of Business is doing for its students, the University, and the community. Establishing the PREP program was a great leap forward as we design better curriculums and better programs to best suit the needs of employers and community groups.
The Mitchell College of Business is headed in a great direction and is a leading force in the community and region for higher education. We are leading the University in high-impact practices and innovation. The Financial Analysis Lab is shaping the future of financial management every day by inspiring our students to higher achievement to benefit the world we live in. The Jaguar Investment Fund allows an elite opportunity for undergraduate students to get first-hand experience investing real money, further building their career portfolios and learning more about the stock market.
It is an exciting time to be a part of the Jaguar family, with athletics growing rapidly and constant upgrades to facilities and improvements in the student experience. It is also a great time to be a part of the Mitchell College of Business, where every day new ideas are generated by our own students through the Melton Center for Entrepreneurship. Whether you are majoring in Accounting, Management, Marketing, Finance, Economics, or General Business, there is a bright future ahead, and I couldn't be happier to be a part of it!
Go Jags!
Josh Crownover