Alumni Spotlight: Sharon Lindsay Davis, SPHR, SHRM-SCP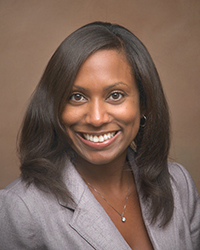 The University of South Alabama was an "obvious choice" for me as a high school senior. I was fortunate to grow up in a household with two parents who held master's degrees and exemplified the definition of strong work ethic. I started my first formal job on my 16th birthday, after having six previous years of odd–and-end jobs. I also knew that obtaining undergraduate and graduate degrees was going to set me up for success, and South Alabama exceeded my expectations of an outstanding college experience.
Entering the work force early on, as a cashier at our local Jitney Jungle grocery store, helped me get a full understanding of hard work, commitment and dedication. I was promoted multiple times in my six years with the grocery store chain. While a junior in high school we got a new General Manager and her experience and background really intrigued me, so I started asking questions. She majored in business, with a focus in management and reviewed with me all of the different aspects of a business degree. Based on that, I knew that I wanted to major in Business Administration with a focus on management, as I do have a take charge personality and like to ensure things get done!
I thoroughly enjoyed my time at South Alabama, as I started just as the College was renamed the Mitchell College of Business. The university was very close to my hometown of Gulfport, MS and the small class sizes allowed me to build strong relationships with my professors and peers. The close knit environment and professor accessibility allowed me to excel as a college student. While at South, I was involved in my sorority, Alpha Kappa Alpha, the Student Chapter of Society of Human Resources, and the African American Student Association, which all exposed me to diverse people.
I was focused on majoring in management until one of my sorority sisters decided to switch from Accounting to Human Resources, and she encouraged me to do the same, based on the fact we are similar in many ways. I agreed to switch and eagerly started obtaining the knowledge to start my career in the HR arena. My professors shared their actual work experience, real life scenarios and business world knowledge during class, which further heightened my interest in HR. They provided us with the understanding that the world of HR was interesting, and HR experts are always faced with new and exciting challenges, which were things I was looking for as I entered the workforce.
I worked hard throughout college and took 18 to 21 hours per semester, which afforded me the opportunity to graduate in less than four years. During college, I continued working at the grocery store and would transfer between Gulfport and Mobile during breaks and summers. During the summer of my junior year, I started an internship with the Cintas Corporation as a General Intern, responsible for learning all parts of the business including sales, service, office and production. Of course learning about the office operations was my favorite, as it had the HR aspects.
As a December 2002 graduate of the University of South Alabama with a B.S. in Business with a focus in Human Resources, I started my career as an HR Management Trainee learning all of the facets of HR and preparing to become an HR Manager. I also knew that obtaining my master's degree would create more opportunities as I wanted to advance in my career, so I started the MBA Program at South in January 2003. Within nine months I was promoted from an HR Intern, to an HR Manager position in Jackson, MS where I successfully reduced worker's compensation claims from 21 to 6, reduced turnover by 21%, and obtained a 100% HR audit score, within 12 months. In October 2005, I accepted an opportunity with Compass Bank, now BBVA Compass as a Sr. HR Business Partner for Southeast Alabama. During that time, I earned my Senior Human Resources Certification through Society of Human Resource Management and finished my MBA in May 2007.
Continuing to further progress in my career, in October 2007 I accepted the Human Resources Director, Senior Vice President role with First Community Bank, where I was happily employed for over 8 years. This was a great opportunity for me to lead an HR team and develop HR initiatives that would strategically benefit the organization. Working closely with the compensation committee, developing succession planning, implementing trending recruiting initiatives, minimizing benefits expenses, and reducing turnover are among the accomplishments I achieved at First Community. During my time there, I joined the University of South Alabama's Alumni Association Board, was a 2015 graduate of Leadership Mobile, and a 2016 recipient of the 40 under 40 award.
With the knowledge I learned in my undergraduate and graduate programs at South coupled with my real life experiences, I was ready to soar into the next chapter of my career. In November 2015, I assumed the role of Director of Human Resources, Executive Vice President with First Defiance Financial Corp. in Defiance, Ohio. Always being a southern girl, this opportunity was scary, but exciting at the same time. My husband Darrell and daughter Patience were very supportive of the move. After being here for a little over a year, I must say this opportunity has definitely exceeded my initial expectations. As an Executive, I strategically lead HR by enhancing the division to continue to serve as a valued business partner, while preparing for strong growth. We are a strong organization, with consistent performance that is poised for growth.
It is my pleasure to continue to serve on the University of South Alabama's Alumni Board and give back. I am very proud to be a South graduate and the experiences I had while enrolled have positioned me to be as successful as I am today. Human resources is a growing and challenging field that is in demand. I strongly recommend exploring HR and talking with the professors to get a better understanding of this field.
The Sky is the limit and you should live each day to the fullest.
Explore career opportunities where you actually enjoy what you are doing. HR does that for me!
Sharon Davis, MBA, SHRM-SCP, SPHR
EVP | Director of Human Resources | First Federal Bank
601 Clinton Street| P.O. Box 248 | Defiance, OH 43512