MCOB Participates in National Career Development Week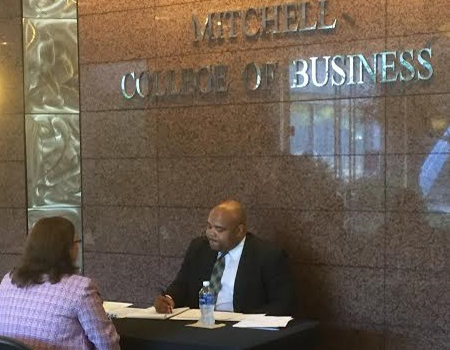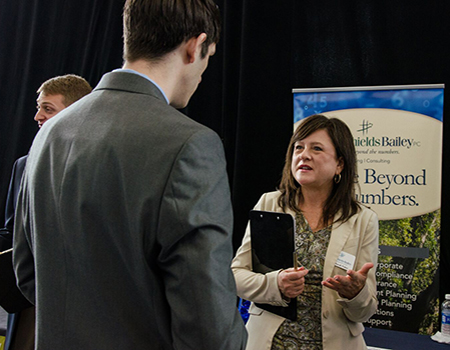 The Mitchell College of Business joined an annual, nation-wide effort spearheaded by the National Career Development Association by engaging business students in a week of career preparedness activities in recognition of National Career Development Week (NCDW). The annual event in November encourages professionals to celebrate with career-related preparedness activities. The Mitchell College of Business celebrated this NCDW, November 14-18, 2016, with a range of activities including: guest speakers; panel discussions; mock interviews; a new feature in the College, Lobby Talks; free headshots for LinkedIn accounts and bio pages; and other professional portfolio building and image branding activities. Over 20 professionals visited MCOB to offer their expertise in events during the week.
Lobby Talks with MCOB Advisors
Adam Barnes, Career Services Coordinator for the University, Cindy Nobles, Supervisor of Academic Advising for business students, and Sonya Clark, Director of the Professional Readiness Engagement Program both in the Mitchell College of Business, received students in the 2nd floor student hub of the Mitchell College of Business for its first Lobby Talks feature. Mitchell business students were encouraged to drop by during the hour to share a Jamba Juice or Starbucks coffee with the group and engage in an informal conversation with the team. This panel afforded those students who dropped in for advice, the ability to have their questions and concerns addressed by a cross-disciplined team. Students were able to discuss resumes, interviewing, and career trajectory with career counseling professionals and an academic advisor who could assist with course suggestions.
Barnes, a member of the USA Career Services team and a career counselor, also holds a Master's degree in Clinical Mental Health Counseling and has had a career in behavioral counseling before joining Career services where he advises and teaches career preparedness classes. Nobles, has been with USA for over 25 years, having worked in graduate admissions and enrollment services; as well as international student and faculty work authorization, she now leads the Mitchell College of Business' student support office where she recommends courses and monitors course curriculum for enrolled students. Clark has a varied background in the business sector, and has worked in student engagement and experiential learning for a communications media department and now in the Mitchell College for its new PREP program. Her educational background includes Masters in Management and Human Resources Management, and a Ph.D. in Educational Leadership. The team drew from their individual perspectives to provide students with multiple approaches to the same question.
The team had their own motivations for wanting to participate in the exercise and also found other benefits from being a part of the panel. Barnes said, "As an alumni of the institution, and having not utilized academic and career advising offered at USA during my undergrad, I know first-hand the importance of using those services and that makes me more invested in helping students make smarter choices during their academic careers to help them be better professionals in the workforce after graduation."
The experience also allowed the panel to determine if their own ideas were along the lines of their peers. "I enjoyed hearing other perspectives, running ideas passed each other, and found the exercise to be invigorating," stated Clark.
Clark said, "Students come to you with questions about their future careers, trusting that you have all the answers. It's a regular practice to send them to advisors for their opinions so that they can be advised on what courses to take or other ideas to assist on the whole plan of how to make their ideas come to fruition, and so the idea for an experienced panel with a broad background of specialties made sense."
The students who participated have expressed interest in having this as a regular event in the College. Clark is considering new ways of presenting the panels. If you're interested in sitting on a panel, please let us know.