Scholarship Dinner Honors Scholarship Recipients and Academic Achievement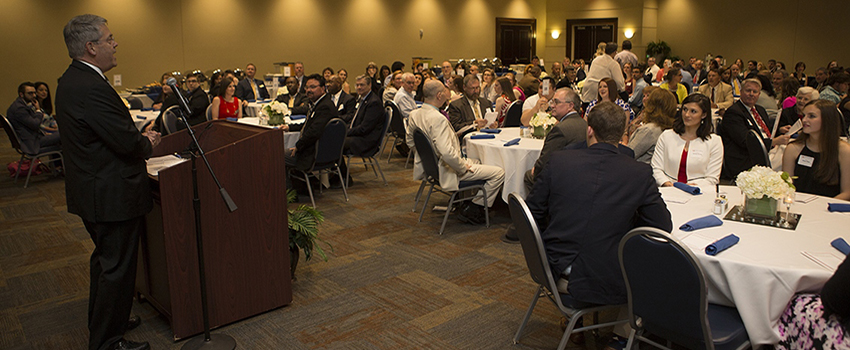 The first MCOB Scholarship Awards Dinner recognized a record breaking number of scholarship recipients. This year the Mitchell College awarded 74 academic scholarships to deserving students, in addition to 25 Mitchell Scholarships.
Approximately 190 students, scholarship donors, family members, faculty and staff celebrated the accomplishments of many of the brightest and best MCOB students in the Student Center Ballroom.
Most of the scholarships awarded are due to the generous support of donors who have endowed scholarship accounts that provide annual scholarships in perpetuity. This is accomplished by making a one-time contribution or pledging contributions over a number of years. Currently, all scholarship donations are matched by the Mitchell-Moulton Scholarship Initiative. Many donors have named their scholarships in honor of family members or faculty who have significantly impacted their lives.
For information on how to create a scholarship endowment, please contact Ms. Brittany Ramsey, USA Development Office, bramsey@southalabama.edu, (251) 460-6928