Sandra S. Fitzgerald-Angello, Vice President and Dealer Operator, Pohanka of Salisbury, Executive Leadership Series Speaker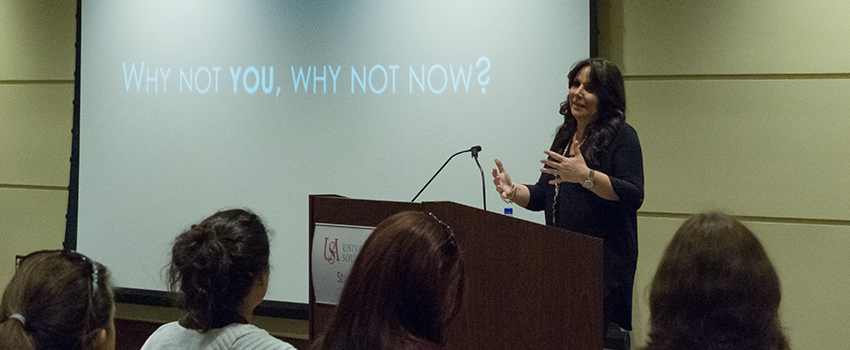 In the photo above Sandra Fizgerald-Angello address students in the Mitchell College of Business
Sandra S. Fitzgerald-Angello, Vice President and Dealer Operator, Pohanka of Salisbury, Maryland was the Executive Leadership Series Speaker during the 2016 National Women's Business Week. Ms. Fitzgerald-Angello played a pivotal role in the acquisition and leadership of Pohanka of Salisbury, a group of automobile dealerships representing seven franchise operations: Toyota, Nissan, Mercedes-Benz, Hyundai, Honda, Sprinter, and Volkswagen. Ms. Fitzgerald-Angello started her career in the automotive dealership over 39 years ago, while she was still in high school because she wanted to support her mother and siblings after the untimely death of her father. She continued to work for dealership, working her way up through the ranks at a time when few women worked in sales and operations in car dealerships. She continued working while earning her Bachelor's degree in Business Administration from the University of Maryland in College Park.
Ms. Fitzgerald inspired students to have a passion for their work, decide what they want to accomplish and go after their dreams. She also suggested students should face their fears head-on by doing the things they fear the most, and never being afraid to try something new. Trying new things in the workplace is what she credits for her success. Throughout her career she has implemented new ways to serve the customer and improve operations in her dealerships. These ground-breaking ways of conducting business gave her dealerships a competitive advantage and increased market share.
Not only has she tried new ways of operating in the dealership, recently she opened a gift and wine shop in Salisbury, a business she has dreamed of opening for several years. Sandra explained to students that life doesn't always seem fair as illustrated by her serious health challenges, a brain tumor and later a diagnosis of breast cancer. When faced with these serious health issues, she made up her mind to never give up, to get up every day, go to work, and keep fighting.
To illustrate that she follows her own advice to face her fears head-on, Sandra explained that she hesitated to accept Dean Wood's invitation to speak before the MCOB student body, because she was somewhat fearful of speaking to a large group of students and faculty. However, based on her own advice, she decided to face her fear of speaking to deliver her message. She told students she was thankful that she had faced her fear head on and will look forward to another opportunity to speak.
Ms. Fitzgerald-Angello has been recognized for her business excellence, receiving the award for Maryland's Top 100 Women in 2009 and the Silver in Excellence in Business Award in 2007 and 2008. She has also received over nine Presidents' Awards from Toyota, Mercedes-Benz, Hyundai, and Honda Corporations. But, she is most proud of awards received for her philanthropic efforts. Sandy founded the Pohanka Pays if Forward program, which pays a percentage of each sale to local non-profits and charitable organizations. She received the Community Leadership Award by the Community Foundation for 2008, 2009 and 2010; the Herbert H. Fincher, Friend of Mentoring Award 2008; and Champion for the Habitat for Humanity Women Build II 2009. Sandy serves on the Board of Directors for the Civic Center Commission, Salisbury University Perdue School of Business Advisory Board, and Shore Hatchery Board, Project Out, The American Cancer Society Leadership Council, the Green Hill Country Club, The Greater Salisbury Committee and Main Street Gym. She has served as a past president of The Salisbury Area Chamber of Commerce and is an appointed member of the Lower Shore Workforce Investment Board.
She was born in Pittsburgh, Pennsylvania and raised in Prince George's County, Maryland, and moved to the Eastern Shore in 1999. She is married to George Angello, and has three children; Meghan, Ryan, and AJ, and two grandchildren Sammy and Harper.