In this month's Ask the Expert column, we visit with Jim Foley, Managing Partner of Fairhope Brewing Company in Fairhope, Alabama…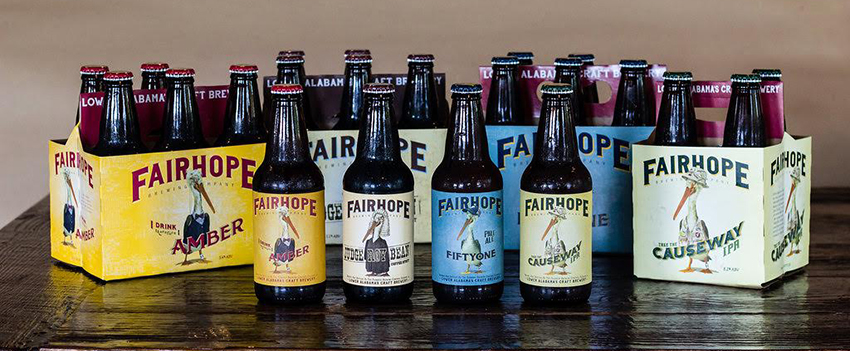 Tell me about yourself.
I grew up in New Jersey and earned an accounting degree from Villanova University before attending law school at The University of Alabama. In law school I became good friends with Brian Kane, who would wind up becoming my partner in this venture. After Brian and I both graduated and passed the Alabama Bar Exam, we did the legal thing for a few years before realizing that we wanted a little more out of life.
Why beer?
When we began planning in 2011, the closest brewery in Alabama to Mobile was over 200 miles away in Birmingham. With craft beer growing the way it was it was only a matter of time before Lower Alabama got its own brewery. Our thought process was quite simple: Someone will do it and be successful at it; why should it not be us? (Well, that and we had both grown quite fond of good beer over the years…)
Any challenges with bringing Fairhope Brewing Company online? Continuing challenges?
Challenges are just part of doing business. Two challenges that come to mind: Finding a logo and brand for the business. When we started, our management team included five people: Brian and myself, Brian's wife, our head brewer and our "beer guy" Gabe. Each of us brought something very unique to the table and had a specific area of expertise, but each of us also had his own idea of what our brand should be. We went through at least three different designers, a crowdsourcing effort, and spent hours deciding between dozens and dozens of options before settling on our pelican in the negative space of an F. Five very smart people arguing over something that is completely subjective was very trying on us personally and professionally.
Finding qualified, reliable people who can deal with all of the issues that might come to pass with our entire operation: plumbing issues, problems with our cooling units (or other, different cooling units), electrical panels, concrete issues, burner issues, etc.
What's the most interesting (or fun) thing about the job?
Everything about my job is interesting, and most of it is a pleasure to do — deciding on what style to brew next and what the name of that beer will be; figuring out the right way to promote an event at our taproom; going to beer dinners and festivals on behalf of the company. Each of those fun activities, though, seems to be balanced out by something like doing taxes or managing inventories or washing kegs on a Thursday night to fill an order on Friday morning.
What's the most unexpected thing that's happened in the first three years?
The biggest surprises we have had here have all been very good:
The number of convenience stores that put our beer on the shelf as soon as it was available in bottles
The positive response to our sour series of beers, starting with our barrel-aged Ecor Rouge, which we had to ration from the very first time we sold it
The fact that we had visitors from all 50 states within 14 months of opening our taproom
Craft beer and traditional mass-market beer differ. What is it about craft beer that makes it special?
Over the decades between the end of prohibition and the beginning of craft beer in the 1980s, beer had become dominated by just a few companies that created a virtually identical yellow product push out the door as quickly as possible using the cheapest ingredients. Meanwhile, craft beer incorporates everything that can be created by combining grains, hops, yeast, and water. Light, dark, bitter, sour, floral, earthy, spiced, or whatever else you can imagine can be—and probably is being—used in craft beer. Craft beer is more about flavor more than the bottom line, with the end goal that the better taste creates a healthier, profitable company while Big Beer leaves those sales to multi-million dollar marketing campaigns.