Alumni Spotlight: Cadie Simmons Gaut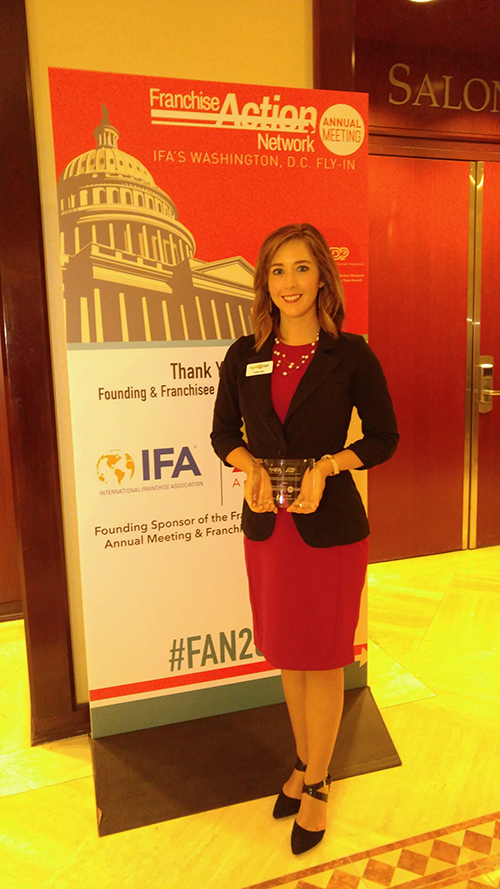 Imagine making the leap of faith to start your own business. Then imagine being named Franchisee of the year only 24 months later! This is exactly what happened to this month's Mitchell College of Business Alumni Spotlight, Cadie Simmons Gaut.
In 2015, after attending an accounting conference where she was first introduced to what she thought was an interesting business model, Cadie later formally partnered with her mother, Karen Simmons (also a South graduate) to further understand an opportunity. The two ventured to Colorado where they purchased their first franchise office of Payroll Vault, to be located in Mobile. The pair recognized a growing need to assist business owners who were attempting to service their own payroll or outsourcing this responsibility to only a few agencies in the area. And, along with Payroll Vault, Cadi and Karen were soon ready to meet the challenge!
Now as an owner of Payroll Vault, Cadie has mastered all facets of the payroll business and enjoys the day to day accounting operations. But as a first-year accounting student at South, this end result may not have been what she had in mind. While taking her first accounting class, Cadie recalls thinking, "This might not be for me!" But it was the influence of one specific instructor that made the difference. She credits Dr. Kenneth Hunsader, chair of the Department of Economics and Finance in the Mitchell College as the impetus to Cadie finding her niche. "After one class with Dr. Hunsader, I remember thinking, 'I get it'."
Speaking about what the University of South Alabama means to her, Cadie lamented, "This is where it all began. I have so many memories here and lessons learned. The same thought keeps coming back to me – this is where it all began." She found her passion – finance. She found a love for the black and white nature of numbers. She honed a skill that would later prepare her for independence and entrepreneurship.
But it was not easy. Cadie shared being a small business owner requires you to wear many hats and to catch a lot of curve balls. She said that every day you learn something new. But if you are willing to work toward a goal, it pays off. Payroll Vault's business picked up fast. "We processed our first payroll in February of 2015, and as of today, we have 175 clients." Many of her clients are from the community – relationships she says she built by leaving her desk and spreadsheets to seek new relationships and build a network. Many of Cadie's clients are new businesses in Mobile, a testament to the growing Mobile economy. However, she also recently announced plans to expand the business into Baldwin County.
"I realized that I had to go out into the community and meet new people. I was used to being behind my computer screen. Getting out of the office helped me to discover who I am. It's important to know yourself." When asked, 'Who are you?' Cadie answered, "A mom. Energetic business owner, positive, and driven."
When asked if she understood the full gravity of what being a business owner meant when it all began, she said, "Not at all. When we first opened, I had the employee mentality. It wasn't until we added a team member that the shift started to happen." Cadie saw beyond the daily tasks and soon learned more about herself – She loves building a team." It is the team that ultimately makes the business work.
Cadie travelled to Washington, D.C. this month to accept her award. To her, winning the Franchisee of the Year Award from the International Franchise Association made all the worth it. Like many new businesses, the work is hard and the hours are long. She clarified exactly what long sometimes meant: "Overnight, literally, until the sun came up." But that sacrifice was worth it. She stated, "This award is important to me but also to my team. I have their back and they have my back…They are supporting me."
Her advice to anyone considering entrepreneurship or owning a franchise: "I stress the importance of doing your research and speaking to other [franchise] locations. Understanding your brand and its values goes beyond just business. You will work harder than you ever have. But, it is well worth it." She was reminded of a quote by local business owner Jeff Roberts of Yellowhammer Coffee: "Legacy over currency." Cadie said this quote really stuck with her. She explained, "It's about more than just growing a business; it's about the impact you can make along the way."
Cadie is having an impact on more than just her business and her franchise teams. She is giving back to students as an active member of the Career Advisory Board for the new Professional Readiness Engagement Program in the Mitchell College. Cadie added, "Thank you to South and the Mitchell College of Business. I didn't realize the lessons I was learning until I got out into the world."
IFA FRANCHISEE OF THE YEAR AWARD
Created to recognize outstanding IFA member-company franchise establishment owner-operators, the Franchisee of the Year Award, is an honor determined by the parent company and presented during the association's popular Public Affairs Conference event hosted annually in Washington, D.C. A gala ceremony is conducted in the Nation's Capital in conjunction with IFA's annual grassroots lobbying activity, which offers opportunities for franchisees and their franchisors to visit Capitol Hill and engage in discussions about key issues affecting franchising (www.franchise.org).
Payroll Vault has been the proud recipient of other awards. In May 2017, the Mobile Chamber of Commerce awarded the Small Business of the Month. The Payroll Vault corporate office has recognized the Mobile office for the following:
2015 Business Achievement Award for Growth and Sales
2015 Leap of Faith Award
2016 Diamond Achievement Award – Sales Person of Year
2016 Driving to Success Award