Student Spotlight Issam Ghobar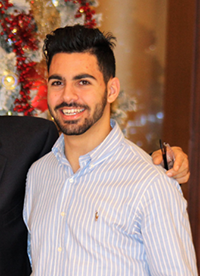 Hey! My name is Issam Ghobar. My teachers and peers call me Sam, and I am a freshmen working in the Dean's office in the Mitchell College of Business. I am majoring in chemistry and philosophy. Originally, I was born and raised for eight years in Bethlehem, Palestine. As a result of the Israeli-Palestinian conflict, my family migrated to Daytona Beach, Florida and then to Mobile. Living in Mobile for the past seven years has been a wonderful experience. I attended Phillips Preparatory Middle School and later enrolled in the International Baccalaureate (Ib) and EPIC program at Davidson High School. Education has been a key facet to my life, which is why I felt that attending the University of South Alabama would be an integral component of my path to medical school.
My first year at the University has been very empowering and eye opening. I have been able to develop strong relationships with many professors who have now become my mentors in a broad spectrum of disciplines ranging from business to chemistry. My education at the University has been impeccable as a result of the effort professors express in order to ensure students' success. Even though my main subjects are chemistry and philosophy, I am also a student assistant to the Dean in the Mitchel College of Business (MCOB). There, aside from working, I have developed close relationships with some of the professors which has been delightful. I have worked along my family members, who are business men, for more than 10 years. Even though I have a substantial business background, professors at MCOB like Dr. Cummings and Dr. Williams, have helped me understand different sectors of business.
Aside from academics, I have engaged in a wide range of organizations across campus. I am a member of Alpha Epsilon Delta, Phi Eta Sigma, and I am currently pledging to be a member of Phi Kappa Sigma. Engaging in extracurricular activities has been essential to my development as a well-rounded student. Before I finish my undergraduate studies, I hope to be a part of many more organizations on campus.
After I finish my undergraduate studies, I plan on attending the University of Alabama at Birmingham where I plan to become an oral surgeon or a dentist. In addition, I also plan on taking over the family business and helping it expand. I would like to thank all my mentors at the University of South Alabama for caring about my success. I would like to give special thanks to Dr. Wood who allowed me to work in the MCOB and to all the professors at MCOB who helped broaden my business knowledge even though I am not a business major.