Student Spotlight: Taylor Hamlin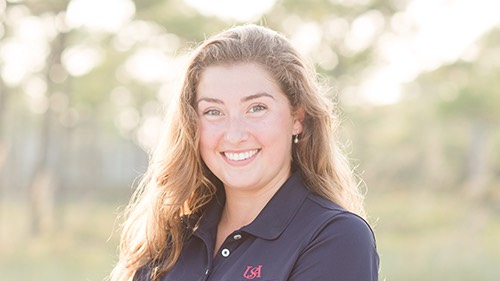 Hey y'all!

My name is Taylor Hamlin. I am a senior accounting major here at USA, so I spend a lot of time on academics. I am an intern at Reed & Reed, P.C., a lifeguard at South's Rec Center and will soon be an American Red Cross Certified Water Safety Instructor. In addition, I supervise the middle school students at my church on Sundays. I enjoy a variety of things apart from my responsibilities. My artsy tendencies balance out the accounting side of my brain. I love crocheting, baking, painting, dancing, etc., and I enjoy the outdoors - swimming, traipsing through the woods (I saw three box turtles and a snake on my last excursion!) and playing with frogs. To complete the strange picture I've painted for you, I strongly dislike chick flicks, chocolate ice cream, and wearing shoes. Yep . . . that's me!
I grew up in Troy, Alabama, which is pretty southern, but I decided to come even farther south to take advantage of South's excellent accredited accounting program and stretch my wings. From a city with a population of about 19,000, I moved to a university boasting nearly that many students! Despite its size, everyone I spoke to on my campus tour treated me like family and gave me straight answers, so I knew almost immediately that South was for me. Mobile took some getting used to, but I have found a vast and supportive network through Grace Community Church and the MCOB faculty and alumni. I have thoroughly enjoyed my time here.
The Mitchell College of Business has given me invaluable learning opportunities and not just in the classroom. As a Mitchell Ambassador, I've practiced teamwork and leadership skills. For nearly a year, I have worked for a local CPA firm owned by University alumni. I'm currently on loan to one of the firm's clients. Thanks to the internship branch of MCOB's experiential learning format, I now know that I prefer managerial accounting to financial. Through Beta Alpha Psi membership and Meet the Firms, I have learned from employers about the realities of my future profession. I'm also eagerly anticipating a study-abroad trip to France that is in the works. What priceless opportunities!
God has faithfully directed my steps so far, and I'm excited to see the future He has planned for me. Currently, I am in the throes of applying to graduate schools. I plan to get my master's degree in accounting to help me pass the CMA and CPA exams. As a profession, I want to consult with small businesses while helping them set up the accounting processes necessary to sustain growth. Eventually, I want to own my own small company. I'm incredibly thankful for the past and present opportunities South has afforded me. They form a solid foundation from which I can look the future straight in the eye.