Students Observe Hearings before the Alabama State Board of Public Accountancy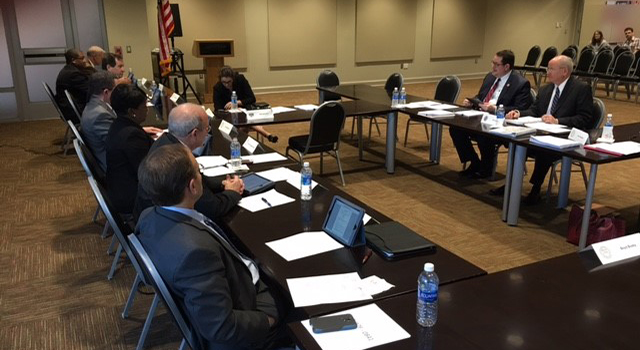 The photo shows an attorney for the Board. On the right is Boyd Busby, Executive Director of the Board, after the hearings were complete.
The Alabama State Board of Public Accountancy held its January 13, 2017 meeting on the campus of the University of South Alabama. The meeting was hosted by the Mitchell College of Business Department of Accounting.
At this meeting, students had the opportunity to observe State Board of Accountancy hearings for the revocation or reinstatement of CPA licenses. The Board can revoke CPA licenses due to violations of accountancy rules. The primary duty of the State Board is to protect the public. Faculty in the Department of Accounting believe that students should understand the responsibility of holding a professional license and offering professional services to the public.
The Board supervises the practice of public accountancy by Certified Public Accountants and Public Accountants in Alabama. The Board is comprised of seven members (five Certified Public Accountants, one Public Accountant, and one Public Member) appointed by the Governor. Board Members serve four-year, staggered terms of office and may be removed by the Governor for cause.
The Alabama State Board of Public Accountancy conducts examinations in public accounting and issues certificates to successful applicants as Certified Public Accountants. The Board issues annual permits to practice to each eligible Certified Public Accountant, Public Accountant, and firm that is practicing public accountancy in Alabama. The Board annually registers Certified Public Accountants, Public Accountants, and firms. It may revoke certificates, permits, or registrations for cause. The Board makes and publishes regulations pertaining to the conduct of Certified Public Accountants and Public Accountants and employs persons to investigate and report on charges of unprofessional conduct. Before the Board may suspend or revoke a certificate, permit, or registration, it is required to hold a hearing. At its hearings, it may issue subpoenas to compel the attendance of witnesses and the production of records. It may issue permits to practice accounting in Alabama to Certified Public Accountants certified under the laws of another state, provided that state will take the same actions for Alabama Certified Public Accountants. Currently, Boyd Busby is the Executive Director of the Board.
Contributed by Dr. Russ Hardin, Interim Chair, Department of Accounting, Mitchell College of Business.
Board Members
M.CHAD SINGLETARY, CPA, CHAIR
CARR RIGGS & INGRAM, LLC
7550 Halcyon Summit Dr
Montgomery, AL 36117
334-271-6678

CONNIE SHEPPARD-HARRIS, CPA, VICE CHAIR
SHEPPARD-HARRIS & ASSOCIATES PC
214 24th St N
Birmingham, AL 35203
205-323-5922

DELBERT MADISON, PUBLIC MEMBER, SECRETARY
SERVISFIRST BANK
One Commerce St, Ste 200
Montgomery, AL 36104
334-223-5804
EARL BLACKMON CPA, MEMBER
HARTMANN BLACKMON & KILGORE PC
806 N Section St
Fairhope, AL 36532
(251) 928-2443

DR. STEVE GRICE, CPA, MEMBER
TROY UNIVERSITY
Bibb Graves Hall, Room 121
Troy, AL 36082
334-670-3149

STEVEN M. BARRANCO, CPA, MEMBER
WARREN AVERETT, LLC
3815 Interstate Ct
Montgomery, AL 36109
334-271-2200 ext. 357

MICHAEL TERRY COMER, PA, MEMBER
MICHAEL TERRY COMER, PA
PO Box 215
Jasper, AL 35502
205-221-3281