MCOB Students Learn the Art of Interviewing by Participating in Mock interviews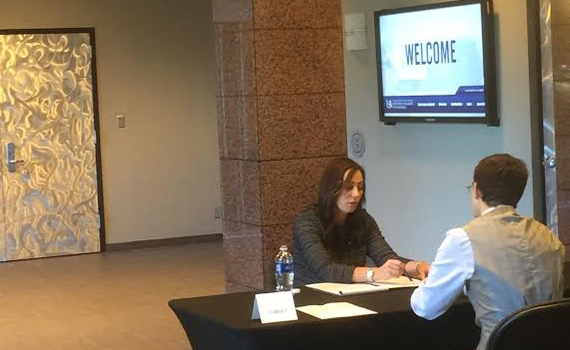 Twelve professionals from a variety of industries and disciplines conducted 53 mock interviews with undergraduate and MBA students during National Career Development Week. This unique opportunity allowed recruiters to get an exclusive preview of the talented students enrolled in the Mitchell College of Business and allowed MCOB students to hone their interview skills. Some students were able to participate in interviews with more than one professional. This was a culminating event for freshmen students completing the first Professional Readiness Engagement Course. The freshmen student prepared business cards, resumes, and career plans, and many freshmen joined the student chapters of their respective professional business to get a jump start on their career preparation. Professionals provided feedback on dress, body language, resume critiques, skill sets and offered advice on choosing a career.
William Jamar, Mobile District Manager of the Alabama Department of Revenue conducted interviews. He found the interviews informative and suggested that practice helps students realize what to say and what not to say in an interview. Mr. Jamar enjoys helping students prepare for the workforce and appreciates the opportunity to meet graduating students in the MCOB because about 40% of the employees in his department are graduates of USA. He knows the University provides good employees who are well-prepared for the workforce. Mr. Jamar is on the MCOB Department of Accounting Advisory Board.
David Chilelli, Financial Advisor, Merrill Lynch, Pierce, Fenner & Smith in Fairhope, said the experience was intense because it forces the interviewer to pay close attention to students' answers and to adjust the interview questions to fit the students' answers. Also, interviewing one person after another increases intensity. David found at least one student he would be interested in inviting for a second interview. He said it was great to see students preparing for the interview by investigating him on LinkedIn and his company online. He is happy to help students improve their professional skills. Mr. Chilelli is a member of the PREP Advisory Board.
Tylan Hardin, a freshmen, said the interview was a wonderful experience because he had never really had a legitimate interview. Tylan learned from the experience to maintain eye contact with the interviewer and to be prepared with good examples to back up claims of experiences. He recommends that all students participate in mock interviews, because there is always room for improvement, so it is important to take advantage of these opportunities.
Karen Namen, a graduating senior, believes that mock interviews help you prepare to pick-up on the small subtleties of what the interview is looking for. The experience gives students guidelines on how to establish a good first impression with the interviewer, including good eye contact, proper handshake, and taking additional resumes if the applicant is interviewed by more than one person. She found the mock interviews are a good way to learn from your errors and to practice your responses to answer questions professionally. Another benefit is the opportunity to interview with professionals from a variety of industries and interviewers of different genders and ages to helps students learn how to sell their knowledge, skills and abilities, highlight your skills effectively. She also learned that silence is okay, take your time to formulate a good answer and don't talk too much.
Dr. Clark, Director of Professional Readiness Engagement Program says interviewing is one of the most requested workshops by students. Mock interviews will definitely continue and she hopes to provide mock interviews for students each semester.
Special thanks to the following professionals who donated their time to the Mock Interviews:
Leslie Beard, General Manager, C.H. Robinson Worldwide, Inc.
Jennifer Busby, HR Specialist, SSI Group, Inc.
Brittaney Camp, Lead Recruiter, Austal USA
David Chilelli, Financial Advisor, Merrill Lynch, Pierce, Fenner & Smith
JoAnna Herring, Operations Manager, Newport Group
William Jamar, District Manager, Alabama Department of Revenue
Kim Lenaghan, Learning Technology Representative, McGraw Hill Higher Education
Kelly Marsh, Talent Acquisition, Grand Hotel Marriott Resort, Golf Club & Spa/PCH Resorts
Ryan New, Commercial Relationship Manager, BBVA Compass
Tasha Quinnelly, Account Executive, Colonial Life
Shellie B. Teague, Social Media & Public Relations Strategist, Teague Branding Strategies
Lee Weldon, Associate Director, USA Development Office