Students Learn about Leadership from Brad Israel, Former US Army Special Forces Detachment Commander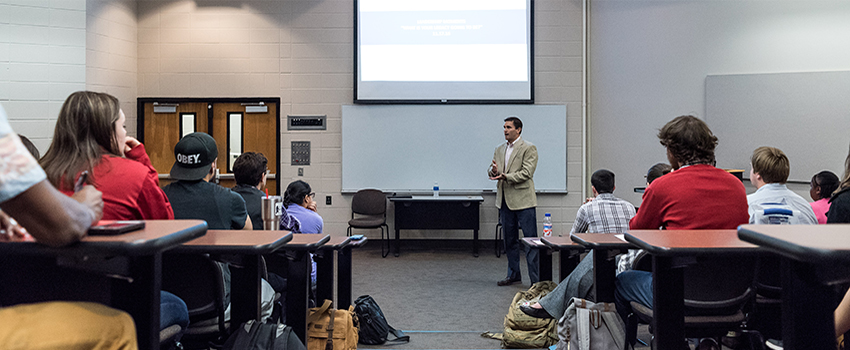 Brad Israel, former USA Army Special Forces Detachment Commander and a member of the PREP Advisory Board, awed the audience with harrowing tales of leading troops into war ravished areas and the leadership his missions required to get his guys back home safely.
The title of his talk, on November 17, 2016, was "Leadership Moments: What is Your Legacy Going to Be?"
Mr. Israel explained how his long-term success was due to an early failure in his military career. While in training for the Special Forces, he didn't pass requirements for admission to the elite group. He explained how this failure motivated him to try harder and to not give up on his dreams, cautioning students that we can learn more from our failures than our successes. He explained the military uses After Action Reviews to review, discuss and learn from experiences. He suggested that teams and individuals should use this approach to learn from mistakes and make improvements in our workplaces and in our personal lives. He also described how his small group of Special Forces was able to devise a plan to enter a remote village in Afghanistan where Americans were feared and hated to win the trust of the village elders and recruit local soldiers to fight for their village. He shared many examples of the leaders he most admired and actions that made them great leaders.
Among the audience members were business students and students from across campus who have an interest in careers in the military, as well as faculty members who were interested in his message. Stacy Sergeant, sophomore marketing major, said that he likes to hear real life military experiences. Sergeant said, "He was inspirational. Just the fact that he could go through all of that and still come back to tell the tales is impressive."
Many of the attendees lined up to shake hands with Mr. Israel before he left. They not only wanted to thank him for inspiring them to keep on fighting, learn from mistakes, and never give up on their dreams, but also for serving our great country. Mr. Israel is Director of Development at Elcan and Associates, Inc., a commercial real estate development company in the Mobile Area.
Contributed by Johnna Farmer, Administrative Assistant in the PREP Program, MCOB