Alumni Spotlight Emily Jerkins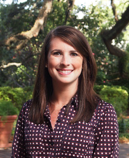 Nearly a year ago as a senior in the Mitchell College of Business, I began an economic development internship at the Mobile Area Chamber of Commerce. The week following graduation, I began fulltime as project coordinator. Over a month ago, I was promoted to the role of research manager.
Last year around this time, many of my fellow jags thought that I had postgraduate life figured out. Outwardly, it may have appeared that way, but inwardly, I was filled with uncertainty like many soontobe graduates. While I worked hard, made good grades, and was strategically involved oncampus, I did not have it all figured out. Up until a student government conference the summer prior to my senior year, I did not know with certainty the career path I would pursue. At this conference, I was exposed to economic development, and it reinvigorated my passion for economics and solidified my desire to pursue a career in economic development.
While I finally discovered the career path I wanted to pursue, I soon discovered that entrylevel opportunities in economic development were scarce. My current career path and former oncampus job opportunities all came my way as a result of the relationships I developed. The rewarding jobs that I held oncampus were a result of performing well in the classroom and building a relationship with my professors. Many of the student organizations I joined and leadership positions I held were a result of relationships I built with talented peers. Lastly, my job at the Mobile Area Chamber of Commerce would likely not have been possible without Dean Wood's unwavering support for my professional aspirations and the opportunity to network with community leadership.
The culmination of my undergraduate studies in the Mitchell College of Business (MCOB), oncampus work experience, student organization leadership positions, and internship prepared me for my current role as research manager at the Mobile Area Chamber of Commerce. With a passion for economics and a desire to improve our community, my current role as research manager is really a perfect fit. As the research manager, I oversee the information and research needs of the economic development department, collect and analyze economic data, and publish a wide array of community and state research documents. The most exciting part of my role is helping the business development division make the business case to prospective companies. My previous role as project coordinator has enhanced my perspective as research manager by providing me with opportunities to observe how each economic development division operates. Not only am I fortunate to work in a fulfilling career, I'm incredibly fortunate to work with a driven, forward thinking team that strives everyday to improve the quality of life in the Mobile area by attracting good companies and jobs.
As you journey through your undergraduate career, you may not know what you want to to do professionally, which is perfectly normal. To discover your passion and livelihood, I challenge you to continuously strive to learn and improve, build strong relationships, and push through adversity while maintaining a good attitude and working within the framework of your values and vision. I wish you the best and hope you find your experience as an MCOB student as rewarding as I have.
Go Jags!
Emily Jerkins
Research Manager
Mobile Area Chamber of Commerce