Ask the Experts: Gary Carley, Landscaping Manager of the University of South Alabama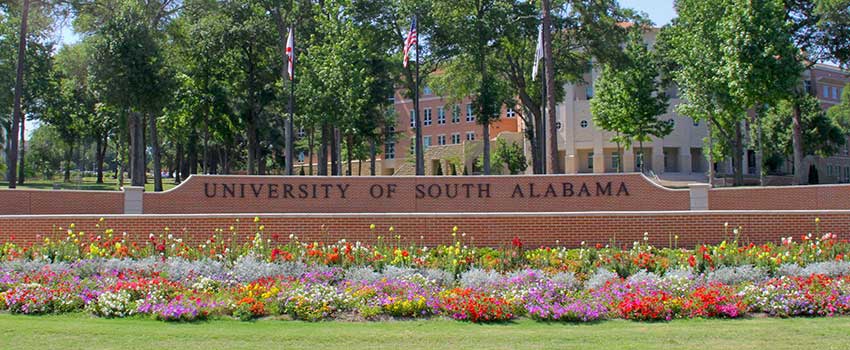 Visitors to our campus always comment on the beauty of the campus. This month, we spend a few minutes with Gary Carley, Landscaping Manager of the University of South Alabama to find out his secrets. Gary and his 55 staff members are responsible for maintaining approximately 1,250 acres of land.
How did you get into landscaping?
I worked part-time with a landscaper through high school and college. After college, I continued to do landscaping in my spare time. Following Hurricane Frederic in 1979, I purchased a stump grinder and chain saws and worked to replace the damaged trees and plants and never stopped.
What keeps you in the business?
I've always been an outside person. I've been fortunate to enjoy the support of Presidents Moulton and Waldrop here at South who believe in the value of an attractively landscaped campus.
How do you decide what type of plant and its location?
I've been doing this long enough that when I look at a piece of ground my mind starts "snapping pictures" of the area – figuring out what problems exist and what needs to be done to fix it. I envision what plants to locate in the area and what layout would be best.
What are the biggest mistakes that homeowners and garden enthusiasts make?
Planting things that are wrong for the area – plants that are not suited to the environment. This is especially true with new hybrid varieties. For example, several years ago Southern Rhododendrons began to appear in garden stores. These are great looking plants. Despite their name, these plants will not tolerate the high stress weather of Mobile – high humidity and high heat. Also, gardeners get too fancy. I always plant in native soil rather than spending money for potting soil, peat moss, and other items. These add-ons might help initially but when the plant outgrows that area, the root system has trouble adapting to the native environment.
What one bit of advice would you leave with the readers?
Be practical. Make sure that you are planting the right type of plant in the right location. Don't force the situation – full sun plants will not grow in the shade no matter what you do.