Student Spotlight Mary Kristen Lee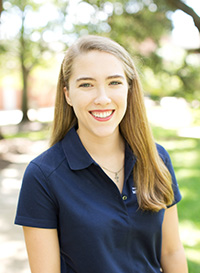 Hello! My name is Kristen and I am a senior marketing major. I am a native of Mobile and always knew that I would earn my undergraduate degree from South. I have had the opportunity to serve with the Mitchell Ambassadors since their start in 2014, and am their reigning pumpkin carving champ. I have also worked in the Dean's office as a student assistant. Outside of MCOB, I have worked as a photographer for the University of South Alabama Jaguar Marching Band and a cake decorator at Simply Sweet Cupcake Boutique. During the summer months, I am the manager of a local swim club.
One of the exciting things about MCOB is their willingness to push students to grow professionally. We have had a variety of great programming, training opportunities, and guest speakers. What I have loved most, is the opportunity for student internships. I have had the privilege of working as sales and marketing intern at Battleship Memorial Park. During which, I developed social media campaigns, worked on special events, and contributed to the development of a new park website. This semester, I will begin a new internship, working in the marketing and communications office of Children's and Women's Hospital. I am looking forward to implementing the things I have learned as well as gaining new skills.
As summer approaches, I am filled with excitement, eager to once again travel to Honduras. Since the age of nine, I have made eight trips. I have grown up and worked in the same rural hospital, located in the mountains. As I continue to travel back, I see how the leadership skills as well as strategic thinking I have been taught have changed the way I handle any daily challenges presented.
As I walk across the stage in May, shaking the President's hand and throwing my mortar board in the air, it will by no means be the end of my education. I plan to attend graduate school, earning a Master's in Healthcare Administration as well as a Master's in Business Administration I will forever be grateful for all that I have learned and experienced in the Mitchell College of Business. The school is so much more than a set of walls with a few classrooms and some chairs. The staff have been like family, providing encouragement and advice when needed. As I reflect on my undergraduate career, I hope that all MCOB students realize how lucky we are to be studying in the best college on campus.­ Go Jags!