MCOB Students Study Abroad in London, England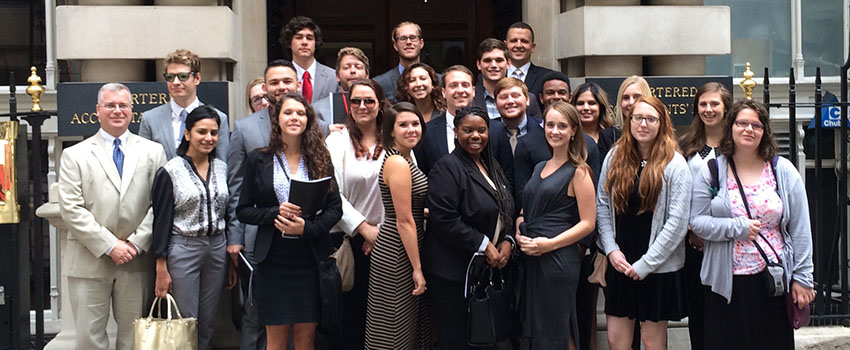 From the moment our 2016 British Studies class and faculty arrived at Heathrow, our month long pace was, in a word, frenetic. London is an amazing place that provides myriad opportunities to explore culturally important heritage sites, visit excellent museums, attend a wide-ranging variety of theater and music productions, and taste food offerings from around the world. With 270 languages spoken in London, it truly is an international city, and central to many nearby places in the United Kingdom and Europe. All students and faculty resided at Queen Mary University of London, an American-style campus in East London only a short block from the Mile End tube station. Students successfully completing the classroom and research components earn 6-semester hours of business electives credit.
Our students relished numerous opportunities to learn from high-level educators, international executives and consultants, professional association leaders, and economic development officials. Studying international business aspects of accounting, economics and economic development, finance, law, management, marketing, and real estate, site visits included the International Maritime Organization, Canary Wharf, British Telecom, the International Accounting Standards Board, the Coca-Cola Education Centre and bottling plant, Queen Elizabeth Olympic Park, Shepherd Neame Brewery, the Institute of Chartered Accountants, the Silicon Roundabout, Wimbledon, and the Economic Development Corporation of London. The highlight of the trip was an overnight visit to Oxford, where students stayed at beautiful Keble College, had dinner at The Eagle and Child, a pub frequented by C. S. Lewis and J. R. R. Tollkein, visited historic Merton College, and toured the BMW MiniCooper manufacturing plant.
On the weekends, while some explored London, others ventured out of the city visiting Hastings, Faversham, Dover, Bath, Stonehenge, Edinburgh, the Scottish Highlands and the Great Loch Ness, Belfast, Dublin, Paris, Amsterdam, Barcelona, Madrid, Rome, Zurich, and Berlin. One student, a cycling enthusiast, even rode his bike to Paris amidst the excitement of the Tour de France! Every student's answer to the question of 'how was it?' was the same: "studying abroad in London was a life-changing experience." During the early fall, Dr. Cummings will be speaking in classes and will offer information sessions about next summer's London study abroad program. If interested, be sure to contact sign up soon, as the class size limit is 25 students, and a limited amount of scholarship money is available to those who apply early.
Contributed by Dr. Reid Cummings