Mother and Children Create a Legacy at the University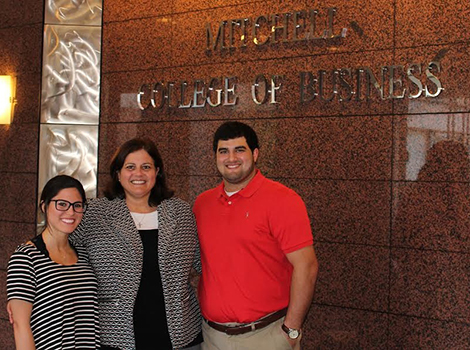 Pictured above are Taylor, Karen, and TJ Naman
Karen Naman's return to college after her children were in high school set an excellent example for them. "This was my opportunity to set the bar high to be a good example," said Karen, who graduated with honors from the MCOB in December. Her major was management. During Karen's years in college, the family dining room became her study space. The children noted how much time and effort she spent at that table preparing for classes and studying for exams. According to her daughter Taylor, "When I saw how hard she studied, I could see that college would be much more difficult than high school."
Although her son TJ and daughter Taylor had many options in choosing a university, Karen hoped they would attend South, but she wanted them to make the decision on their own. She knew they would be happy at the University that has "grown up" with them.
TJ recalls attending basketball and baseball games at South when the campus looked very different. When he was young, his uncle, baseball assistant coach, Ronnie Powell (now in the USA Athletic Hall of Fame), was coaching the team. TJ says it was exciting to see the campus grow and to watch the construction of many new buildings. By the time TJ was a high school senior, he knew South was his choice.
Taylor wasn't so certain. She considered Auburn and Ole Miss, and agreed to her mother's suggestion that she try USA for one year. If she wasn't happy here, she could transfer. Taylor won't be transferring, and she is so happy she came to South. She is active in Phi Mu and enjoys the campus life while living at home about eight minutes from campus.
According to TJ, following in a parent's footsteps in college has its advantages. Since TJ is majoring in business, his Mom took the same core classes and can give him advice about the order of the classes, how to prepare for classes, offer insights into professors' preferences and even tutor him. TJ bragged, "I could tell she really knows the material because when I was in economics, she could explain economics clearly to me and she helped me prepare for exams."
Karen was confident TJ and Taylor would be successful at South, because class sizes are smaller and based on her experiences she knew the professors are helpful. She also noted the diverse student body, which offers a rich college experience. This semester Taylor and TJ are enrolled in the same geography class. TJ has helped Taylor in the lab, and they plan to study together.
The Naman family is proud of their legacy at USA. Karen's twin sister, Kathy Powell, graduated from South with a degree in Special Education and a master's degree in Psychometry. Kathy's son Tucker is majoring in medical science, and her daughter Morgan is studying recreational therapy.