Student Organization News
Beta Alpha Psi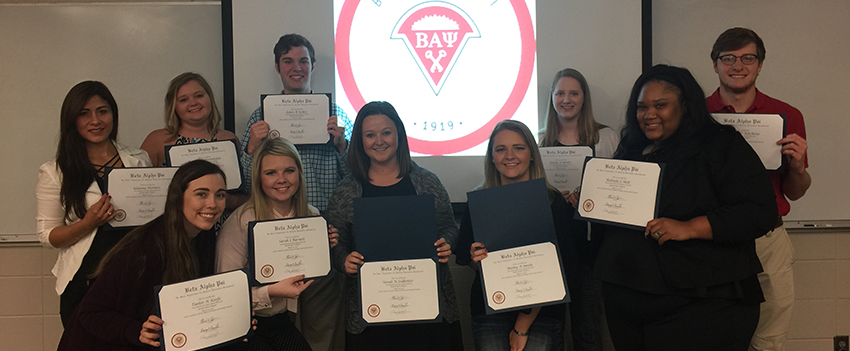 Beta Alpha Psi had a busy month with spring initiation, two professional meetings and a recruiting event. The first professional meeting was presented by the Alabama Society of CPAs with Diane Christy (ASCPA VP Communications) and Peter Susman (Assistant Controller of USA) speaking.
The second meeting was presented by Austal with Napoleon Bracy who is the Manager, Diversity, Inclusion & Affirmative Action at Austal USA and an Alabama State Representative.
The BAP students held an accounting career recruiting event at the USA student center.
Spring initiates are shown in the photo above. Not pictured for the initiation - Truc Hua
The following students were initiated into BAP.
Sarah Barnett
Hannah Haverkamp
Rolinda Holt
Ximena Horness
Truc Hua
Taelor Keefe
Jonathan Kitchens
Sarah Ledbetter
Bailey Smith
Emily Speaks
James Stokes
---
Beta Gamma Sigma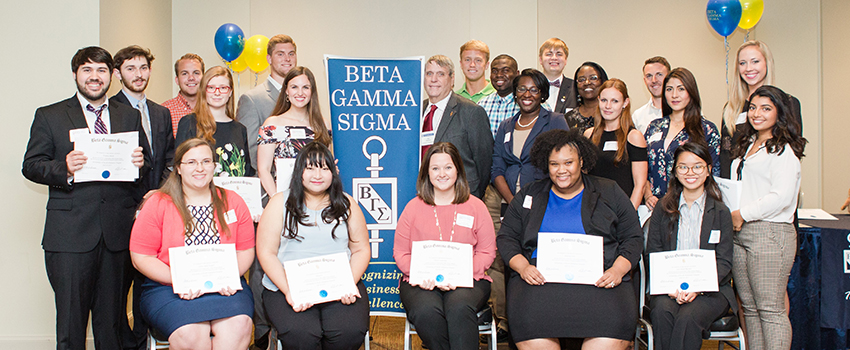 Beta Gamma Sigma conducted their induction ceremony on April 20 in the Student Center Terrace Room.
Members of the organization named Dr. Ko Hsu, Associate Professor of Accounting, as the Professor of the Year for 2017.
---
Financial Management Association
On Tuesday April 11, FMA hosted guest speaker JD Gardner from Aptus Capital Advisors in Fairhope. The students who attended learned about exchange traded funds and investment management.
On Monday, April 17, six FMA students went on a field trip to Employee Fiduciary in Mobile Alabama to learn about job opportunities in the retirement planning and management industry.
---
Society for Human Resource Management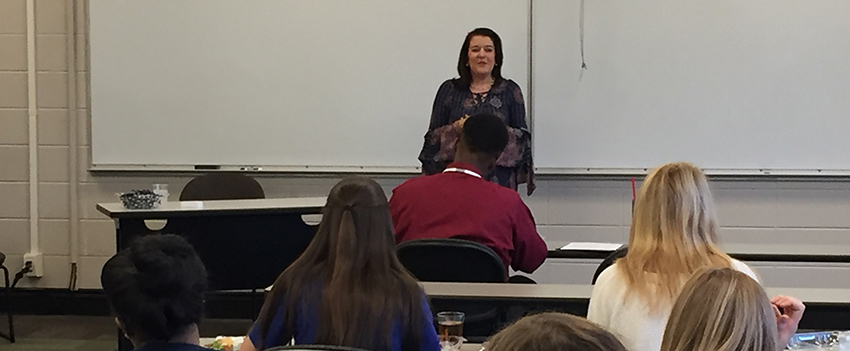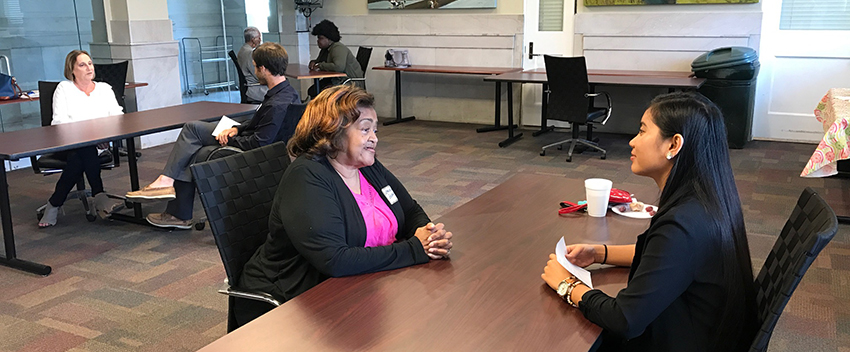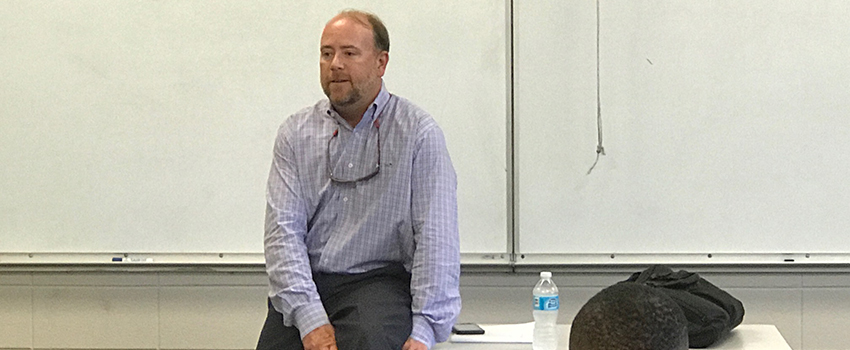 The Society for Human Resource Management and the Professional Sales and Marketing Club were privileged to meet with Mr. John Walsh the VP of Women's Buying at Shoe Station. Mr. Walsh shared his career experiences in retail and offered great advice for students entering the workforce.
Jennifer Busby, Human Resource Manager at SSI, spoke to the chapter on "What HR Managers Expect to See on Your Resume." She also presented interviewing and application dos and don'ts.
The chapter selected officers for next year:
President: Brie Strickland
VP 1: Morgan Byrd
VP 2: Leea Sullivan
Treasurer: Samantha Borden
Recording Secretary: Dorothy Arcenal
Membership Secretary: Jordan Griffin
SHRM Members Provide Interview Training and Mock Interviews for Senior AIDES Program. The photo above shows students conducting mock interviews with program participants.
Student Chapter of SHRM conducted a school supply drive for Wilmer Hall. Get info from last year's newsletter.
---
Professional Sales and Marketing Club
The Professional Sales and Marketing Club took a field trip to the Beau Rivage on April 21. The new officers for next year are:
President - Tiyana King
Vice President - Melissa Lowe
Treasurer - Joyce Casolino
Public Relations Director - Shelby Guidry
Secretary - Ta'Shonna Pearson
Special Events Coordinator - William Figures