Student Spotlight Savannah Otte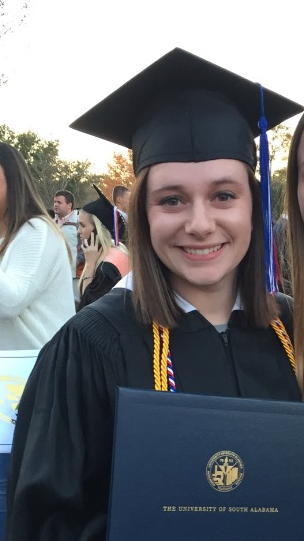 My name is Savannah Otte, and I am a graduate of the fall class of 2016. I am from Hoover, Alabama, and decided to visit South Alabama after meeting with a college recruiter at my high school. After my first visit I knew I had found my home.
The beautiful campus, friendly faculty and students, and highly accredited Mitchell College of Business drew me in. My major at South was accounting and I was a member of the Mitchell Ambassadors program. I chose accounting after starting my business curriculum in the Mitchell College of Business because of the challenge it presented me with and my professors who showed me conquering the challenge was possible. I have always wanted to understand the behind-the-scenes of businesses, and a degree in accounting has not only helped me understand this, but will allow me to aid business owners in being successful.
I plan to begin the Master of Business Administration (MBA) program at Southern Illinois University Edwardsville (SIUE) in Edwardsville, Illinois in January and sit for the CPA exam next year. The classes and faculty at South Alabama have prepared me well for what lies ahead, and I will use what I have learned to be successful.
One of the most rewarding experiences at the Mitchell College of Business was being a student ambassador. As a member of this organization, I was able to sit on an advisory council with the purpose of enhancing MCOB's core curriculum, network with upper management of businesses in the area, interact with students, and attend speaker events with the opportunity to meet and talk one-on-one with the speaker. Because of this organization I have been able to make a real impact on the Mitchell College of Business that will have a positive impact on future students.
I am very grateful for my education and experiences at South and I am so excited to be part of the alumni family! Go Jags!