Inaugural Professor for the Day Event in the MCOB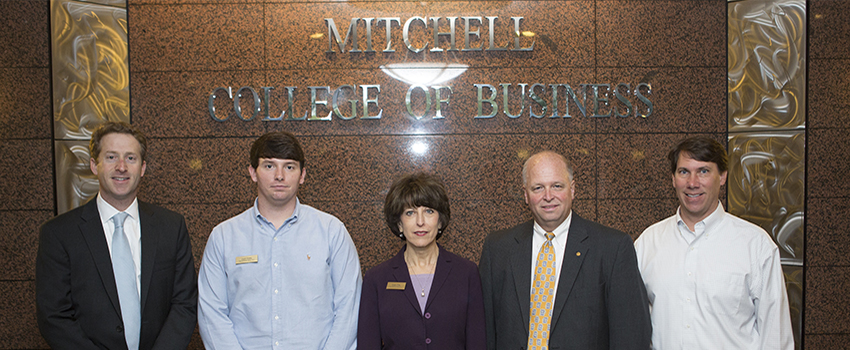 In the photo above left to right: Brent Barkin, Justin Estes, Susan Riley, Jimmy Shumock, and Mark Davidson
To achieve the strategic goal of actively involving business and community professionals in our classes to enrich the learning experiences of our students, the Mitchell College of Business hosted the inaugural "Professor for the Day" program on March 24. This year four executives participated in the Professor of the Day Event by speaking to a variety of classes and student organizations.
Mr. Mark Davidson, CFA and Director of Investments at Cornerstone Investments, spoke in Dr. Lawrey's Business Finance class and Dr. Pennywell's Advanced Business Finance class.
Ms. Susan Riley, CPA at Topp McWhorter Harvey in Hattiesburg, spoke to two accounting classes, Dr. Foster's Taxation of Individuals class and Dr. Hsu's Accounting Information Systems class. She also spoke at a meeting of Beta Alpha Psi. Ms. Riley was accompanied by Mr. Justin Estes, a Graduate of MCOB.
Mr. Jimmy Shumock, CPA for Thompson Engineering, and a member of the USA Board of Trustees, spoke with Dr. Prescott's students in International and Advanced Accounting and in the Accounting for Entrepreneurial Business with Mr. Foster.
Mr. G. Brent Barkin, Executive Vice President at Shoe Station spoke to students in Mr. Roach's Legal and Financial Aspects of Entrepreneurship class and Ms. Edwards' New Venture Creation class.
A special thanks to each executive who volunteered her/his time to share real-world wisdom with our students.