Alumni Spotlight Cindy Rathle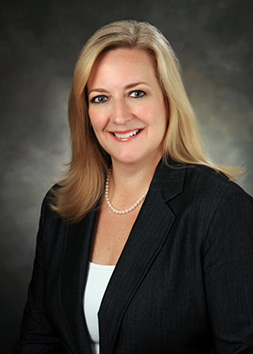 I attended the University of South Alabama in 1984 to pursue a degree in accounting. I had taken an accounting course in high school and became interested in financial problem-solving, ultimately deciding that I wanted to pursue my undergraduate degree in the accounting field. In my junior year, I began working with McKean and Associates P.A. and immediately went to work for the firm's tax department after graduating in 1988.
After working full-time for almost ten years with McKean and Associates, I transitioned into a part-time team member in 1995 only working during busy season. As a proud mother of two daughters, Madeline and Olivia Rathle, I decided that working part-time gave me the ability to focus on continuing my career while balancing responsibilities as a full-time mom. In 2006, I returned to McKean as a full-time employee and partner with the firm, and within two years I was promoted to managing partner.
As managing partner with McKean, I was able to lead the firm's internal business functions while still enjoying working with clients on tax needs. One of the highlights of tax season was recruiting and hiring interns from South Alabama. Collaborating with USA interns gave me the opportunity to see first-hand that current USA students are still receiving the high level of education in the Mitchell College of Business that I received twenty years prior.
After working on several projects with regional accounting and consulting firm Crow Shields Bailey, PC (CSB), my partner and I began discussions with CSB leadership about partnership opportunities. We soon realized that our firms shared similar cultures, values and dedication to our clients. In the fall of 2015, McKean & Associates officially merged with CSB. As our leadership dynamic has strengthened and diversified, I am continuing my career as a tax partner with a focus on business, individual and estate tax, small business consulting and tax and estate planning.
My husband, Amin Rathle, is also a USA alum and currently works as an investment advisor with PNC Investments. I'm passionate about staying involved in the accounting industry and serving as a steward in my local community. In my field, I'm currently a member of the Alabama Society of CPAs, the American Institute of Certified Public Accountants (AICPA) and the Mobile Estate Planning Council. I also serve as a sustaining member of the Junior League of Mobile, and formerly was the Lifelines Counseling Services Board Treasurer.
I'm proud of how USA is continuing to grow as an outstanding university to our region. I love being involved with the school as a past member of the USA Planned Giving Board, current member of the USA Accounting Advisory Committee and lifetime member of the USA National Alumni Association. USA has given me the tools and foundation to build a successful career for nearly 30 years, and I highly recommend the Accounting department to future USA students.
Cindy Rathle
Managing Partner
Crow Shields Bailey, PC
3742 Professional Parkway
Mobile, Alabama 36609