Alumni Spotlight Jennifer Ryder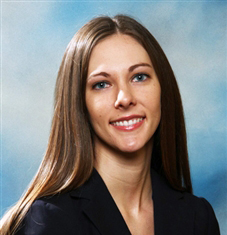 I graduated from The University of South Alabama Mitchell College of Business in 2008 with a concentration in Finance. As I have been thinking back to that time, I can recall several ways in which the Mitchell College of Business played an integral part in my success since graduation. Not only did I feel confident of my understanding of the principles of finance, but I also felt prepared to articulate that knowledge during a job interview. In addition, being a member of the Financial Management Association (FMA) chapter allowed me to hear from many local professionals with careers in finance. These speakers offered great insight into the many different career options I had coming out of college.
Shortly after graduation, I began working in the financial services industry with Coldsmith & Associates, a financial advisory practice of Ameriprise Financial. I am proud to say that my degree from USA, as well as a recommendation from the Chairman of the Finance Department, Dr. Dickens, aided me in getting the job. I feel very fortunate to have been given this opportunity upon graduation.
I began my career as a paraplanner which allowed me to begin learning the financial planning process and how to manage client portfolios. During the first six months of my employment, I studied for and obtained the Series 7, Series 66, and Alabama Life & Health insurance licenses in order to begin accepting and placing transactions for our clients. Thankfully, the upper-level finance classes provided me with a basic understanding of many of the exam topics, and I was able to expedite the licensing process. After two years of intensive training in financial planning and portfolio management, I was promoted to a financial advisor. I have since continued to work as a financial advisor with Bruce Coldsmith, and together we work with approximately 300 families along the Gulf Coast.
To explain my role as a financial advisor and what I do on a daily basis, I must begin by stating that my main role is to help our clients achieve their life goals. Every bit of advice I give to a client centers around his or her financial goals, whether it is saving for retirement, buying a home, saving for college, preparing for long-term care expenses, or all of the above. As part of my training, I studied to become a Certified Financial Planner™ practitioner, and in 2012, I obtained the CFP® designation. The CFP® designation confirms that I am competent in each area of financial planning and that I am held to strict ethical and professional standards. I also have a fiduciary obligation which requires me to act in the client's best interest and not my own.
In addition to my focus on financial planning in the practice, I also manage investments for our clients. By having a good understanding of a client's financial goals, I can develop the most appropriate investment plan to help the client achieve each financial goal. In addition to asset management, we spend a great deal of time educating our clients on their investments and helping them keep calm during downturns in the market. I thoroughly enjoy my career as a financial advisor, and I am thankful to have been given this opportunity so early in my working life. I believe I would not be where I am today without the education I received from the Mitchell College of Business and the support from my professors.
Jennifer Ryder, CFP®
Financial Advisor
Coldsmith & Associates