Executive Leadership Speaker - Mr. Matt Saurage, Chairman of Community Coffee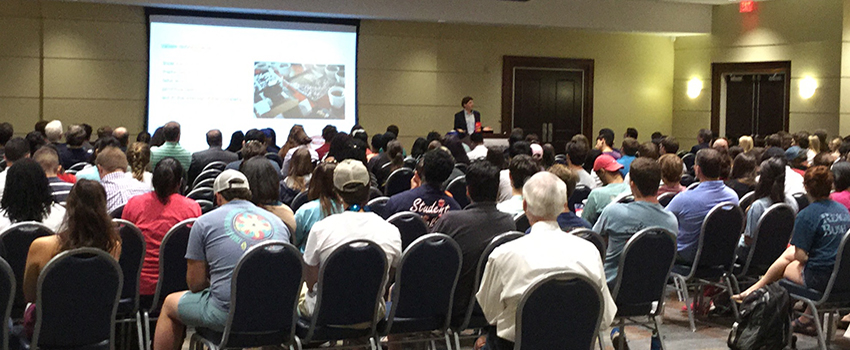 Mr. Matt Saurage, Chairman of Community Coffee, spoke to MCOB students in the Student Center Ballroom on April 26. Students learned that Mr. Saurage joined the family business in 1995 and gained experience in most areas of the Company, including the coffee roasting facility, marketing, and new product development. In 2005, he became the fourth generation of the family to take the helm of Community Coffee Company.
Mr. Saurage emphasized the importance of identifying one's values early in life and working in a company that shares those values. He explained that the Community Coffee's core values are based on his family's values including integrity, commitment to quality, respect, building and maintaining strong relationships, and corporate social responsibility. Strong relationships with coffee growers means the company invests in the communities where the family-owned farms are located and pays farmers a fair price for coffee beans to ensure the sustainability of the farms. Other examples of social responsibility are the "Cash for Schools Program" that has been in existence for 27 years, which has provided financial support for schools in Louisiana, Mississippi and Alabama and the "Restore the Wetlands" initiative.
Students learned the company was started in 1919 by Matt's great grandfather, who discovered a secret coffee brew that became popular in Baton Rouge. Today, the Company is the largest family-owned and operated retail coffee brand in America and can be found in stores, offices, hotels, and restaurants throughout the South. Community Coffee has grown by developing partnerships with Southwest Airlines and Hilton Hotels. The Company continues to expand its geographical market, especially by expanding its product line to include k-cups that are sold in Walmarts in several states.