Student Spotlight Stacy Sergeant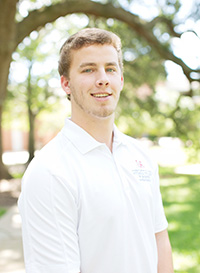 My name is Stacy Sergeant, and I am a sophomore marketing major. For all twenty years of my life, I have lived in Mobile, and I do not plan on leaving anytime soon. Both of my parents are alumni of South Alabama, my sister is currently in the nursing program here, and my younger brother is heading to South Alabama next year. With that said, South has always been an integral part of my life. At USA, I have had the honor to serve as a Mitchell Scholar, a Mitchell Ambassador, and a member of several other organizations. Also, within the Mitchell Ambassadors, I serve on the Community Involvement Committee.
The Mitchell College of Business has continually strived to develop me into not only a prospering student, but a respected professional. Through MCOB, I have had the opportunity to meet with countless professionals, life coaches, and many more individuals who are fully invested in my future as well as my peers'. During school, I also work in MCOB as a student assistant for the Professional Readiness Engagement Program (PREP). This program was started by Dr. Wood and has continually improved students in all aspects of their professional development. Through PREP and with the help of its director, Dr. Clark, I was able to obtain an internship at Shoe Station's Corporate Office last summer.
This year, aside from academics, I have been training my golden retriever, Moose, to become a certified therapy dog. This also requires some training on my side as well. Hopefully by the end of this semester, he will be able to pass his test, and we will be making our trips to local hospitals and nursing homes.
After I graduate from South Alabama, my dream is to become a sales representative for a leading cardiovascular technology company. I am very thankful for my experiences so far at MCOB which would not have been possible without my professors and mentors. The Mitchell College of Business is extremely devoted to its students and that fact is displayed through its faculty. I would love to thank not only Mr. Mitchell for providing me a chance to afford and achieve success here, but also Dr. Wood for constantly looking for ways to enhance his students' experiences.