Ask the Executive Advisory Council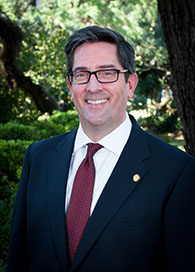 Bill Sisson, President and CEO of the Mobile Area Chamber of Commerce, believes "Diversification Is Key to Mobile's Economic Success"
A strong, growing, sustainable economy is the goal of every great city in the world. A sustainable economy enhances a region's standard of living by creating wealth and jobs. Having a diverse economy – that is, one based on a wide range of profitable sectors, not just a few – has long been thought to play a key role in a sustainable economy. Diversification is the hallmark of Mobile's economic development efforts which have yielded countless business opportunities within a wide spectrum of industries.
For more than 25 years, the Mobile Area Chamber of Commerce along with its public and private sector partners has led a strategic approach to development which has garnered more than $14 billion in capital investment and 75,000 new jobs with average salaries significantly higher than the state and national averages. During that timeframe, there have been 300 new and expanded companies in various business sectors, representing more than 40 countries.
A quick glance at Mobile's major employers gives testament to our well-balanced economy. The Australian shipbuilder, Austal, employs more than 4,300 at its downtown facilities on the Mobile River. Nearby at the Mobile Aeroplex at Brookley, the aerospace company Airbus operates a 250 employee Engineering Center and opens a Final Assembly Line there in September 2015, which will ultimately employ 1,000 workers and thousands more in supplier positions. The oil and gas sector remains strong, as do our chemical and steel sectors, as well as our many service companies. The University of South Alabama and its medical centers, including the Mitchell Cancer Institute, employs thousands in our region and is a key driver in new company start-ups in the IT and health sciences arena.
Indeed, most people might have a hard time answering a question about the predominant industry in the Mobile Bay region. Is it aviation, shipbuilding, healthcare or education? The answer is all these things --- and more. The objective will be to continue to capitalize on these growing sectors to sustain and accelerate our region's growth and prosperity.