Snap Shots
Get Connected Day Grows Bigger and Better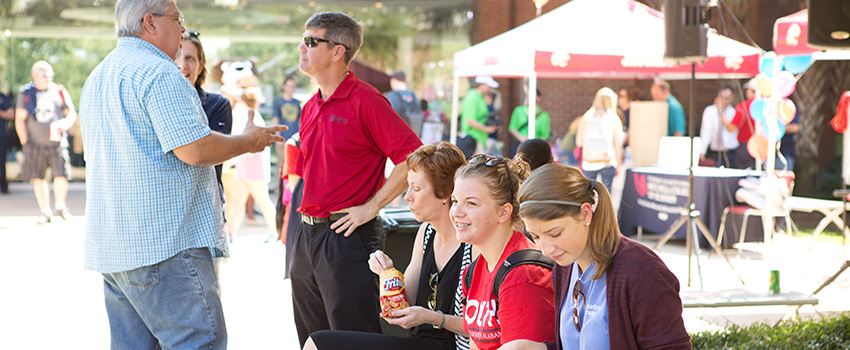 The annual fall Get Connected Day was bigger and better than ever. Each fall student organizations recruit new members and explain the activities in which their members participate. MCOB offices such as the MCOB Library, the PREP program and others participate to make students aware of the services available for students. This year 22 student organizations and MCOB departments participated in the event and the number of students attending more than doubled from last year.
Students at Get Connected Day had the opportunity to contribute to flood victims in Louisiana and by trying to Dunk the Dean. Deans Wood, Sharland, and Icenogle and professors Gillis, Prescott, and Chow all took a turn in the dunking booth. The booth raised $200 that was contributed to the flood relief.
Special thanks to the Graduate Assistants who organized and executed the event: Syed Ahmed, Michael Baker, Marc DuPont, We Kent, Inga-Lena Koerner, Stephanie Miracle, Henry Perkins, Lennard Tigges, Stephen Swinney.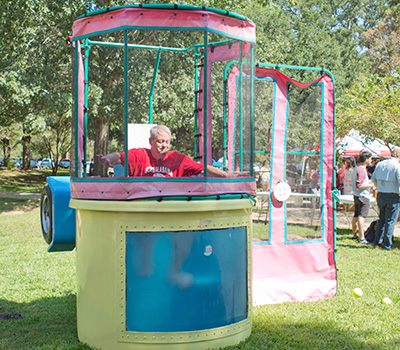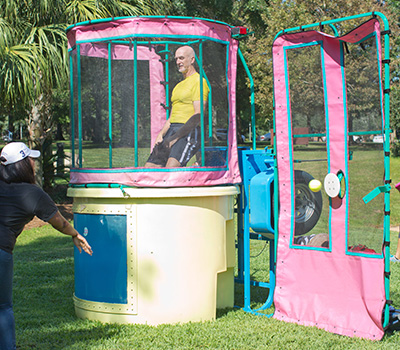 A Highlight of Get Connected Day is "Dunk the Dean"
---
Jag Investment Fund students present to the USA Board of Trustees
The Jaguar Investment Fund hosted the University Board of Trustees in the John B. Saint Financial Analysis Center on September 8th. JIF students Mallorie Evans, Andrew Knapp, Marcus Williams, and JIF Faculty Advisor Kyre Lahtinen gave a presentation, which included a tour of the financial analysis center, a demo of the Bloomberg Terminals, and a discussion the Jaguar Investment Fund. Students explained about how they make trades, the types of analysis they perform, and the fund's overall performance. Students and Dr. Lahtinen were treated to dinner with the trustee's at the Mayor Stimpson's home.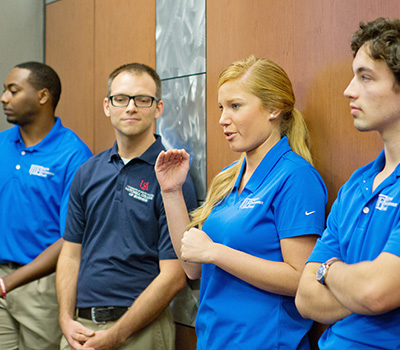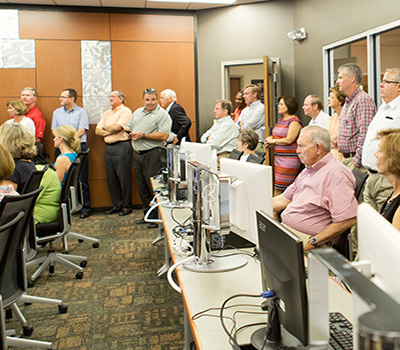 ---
Companies use MCOB Lunch and Learn to Develop Their Future Employees
In September, two firms provided Lunch and Learn opportunities for MCOB Students. Melissa Strickland with Keller Williams Realty spoke about "Careers in Real Estate." Carter Miller and Suzanne Donaghey from Gulf Distributing in Mobile discussed "The Myth of Millennials in the Workplace." Both events attracted about 18 students interested in these topics. To conduct a Lunch and Learn, contact Dr. Sonya Clark (251) 341-3081 or email sclark@southalabama.edu.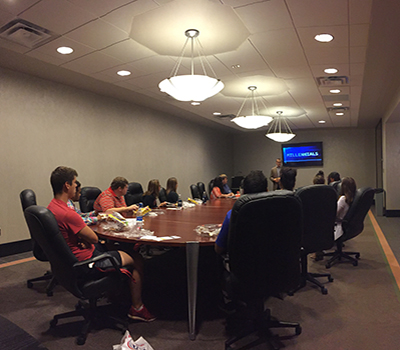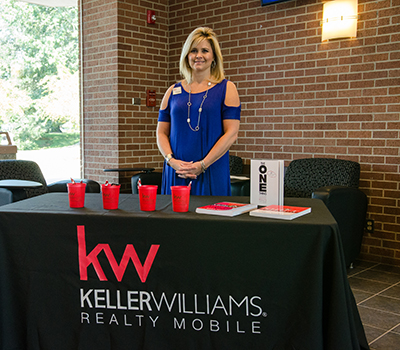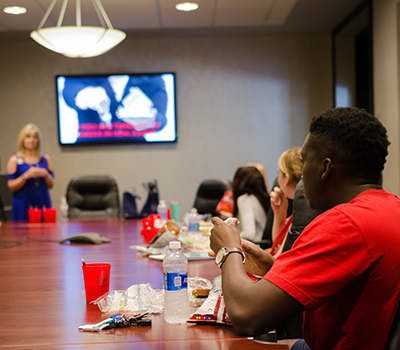 ---
Mitchell Ambassadors and Scholars Meet with Minister Counselor from the Cuban Embassy
On September 16, Mitchell Ambassadors and Scholars had the opportunity have breakfast with Mr. Rubén Ramos Arrieta, who currently serves as the Minister Counselor responsible for the Economic and Trade Office for the Cuban Embassy in Washington, DC. His previous experience includes serving as the Director for the Division of Latin America and the Caribbean at the Cuban Ministry of Foreign Trade and Investment and as the Cuban Economic Counselor in Venezuela and South Africa. During his 20-years career, he has participated in numerous bilateral and international events. Mr. Ramos graduated summa cum laude from the "Raúl Roa García" Higher Institute for International Relations. He spoke with the students about the importance of economic trade.