University of Stellenbosch Business School Students Visit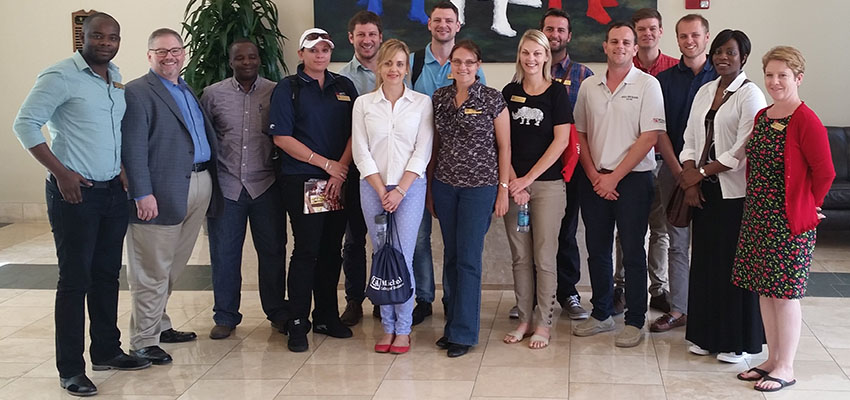 In July, the Mitchell College hosted University of Stellenbosch (South Africa) MBA students in Mobile and New Orleans. The visit, a part of the University's international exposure effort, included students from South Africa, Namibia, Kenya, and the Democratic Republic of the Congo. All Stellenbosch students are required to participate in a short-term study abroad program as part of their internationalization. They choose their locations; other countries hosting groups included Brazil, Canada, China, France, Germany Japan, Morocco, and Netherlands. The Mitchell College was the only host location in the United States this year.
The MCOB program was built around the theme of "More than Fifty Shades of Gray: Uncertainty in Business" with four areas of focus; marketing to millennials, smart manufacturing, entrepreneurship, and port management. The students arrived in Mobile late Sunday night after 24 hours of flight and began Monday with a lecture and discussion on "Political Entrepreneurship" from alumnus Mike Dow. The afternoon was spent in a discussion of business ethics using Ivey's "Ransom on the High Seas: The Case of Piracy in Somalia" case. The day ended with a reception and dinner at the USA Faculty Club attended by business, political, and campus leaders. Day two was divided between a marketing to millennials discussion with the Mobile Convention and Visitors Bureau and a visit to Airbus where the students participated in an innovation activity. The day concluded with dinner at Red or White—the group was fascinated with the restaurant/bottle store business concept. John Kasuda of Siemens led the group's discussion of technology based manufacturing on Wednesday morning. Wednesday afternoon's activities included a tour and project led by Denson White at ADM Terminals followed by a discussion of entrepreneurial issues for young businesses with Jim Farley of Fairhope Brewing Company. The day concluded with dinner at Felix's Fish Camp.
On Thursday morning the group transitioned to New Orleans after a visit to that bastion of American capitalism, the Wal-Mart Supercenter. After arriving in the Crescent City, the group was led on a walking tour of the French Quarter. Other activities in New Orleans included a visit to Mardi Gras World and a meeting with Jeff Anding, Executive Director of the New Orleans Visitors and Convention Bureau. The week concluded with Saturday morning being spent in a volunteer activity with the St. Bernard Project of New Orleans as part of the South African "67 Minutes for Mandela" remembrance.