Student Spotlight Alexander Wentz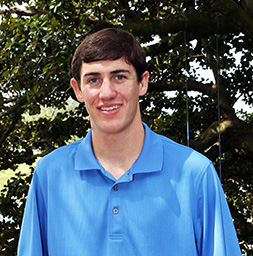 My name is Alex Wentz, I am a junior in the Mitchell College of Business (MCOB) and am dual majoring in business management and finance. As a native of Fort Walton Beach, Florida, I was drawn to the University of South Alabama by the MCOB. When I came to the college for a tour, I loved the modern classroom settings and incredible facilities, such as the stock room and library that the MCOB had to offer. I also really appreciated having the prestige of a top rate business college in a small school setting that South Alabama is able to offer. I was also very impressed with the University's state-of-the-art Recreation Center, where I work as a lifeguard.
Coming into the University as a freshman, I was not sure that management or finance would be right for me. After taking introductory classes in management, accounting, and economics at the MCOB I knew I was in the right place. The professors are all well qualified in their fields and excellent at teaching new concepts, methods, and ideas. However, what really makes the faculty stand out is their ability to relate their class material to real world applications, not just theories and concepts found in a textbook. In four short semesters at the MCOB I've learned how to write business reports, prepare accounting journals, and financial portfolios. I've also conducted mock interviews, given business presentations, and performed company analysis. Learning these abilities that I will be able to put to use in my career gives me confidence moving into the future.
Growing up in Florida, my favorite part of the year is the summer, when my family could go on vacations and be out on the water. I love spending time with my friends and family on our boat, tubing and skiing, and riding wave runners. After college I hope to take that feeling with me as I move into management in the tourism industry. My professional goal is an upper management opportunity in an amusement park such as Universal Studios or a large resort. I'm confident I will be able to obtain such a position after I graduate with the knowledge and skills I have gained from the Mitchell College of Business.