Young Entrepreneurs Class Present their Case for Business Funding (YEA)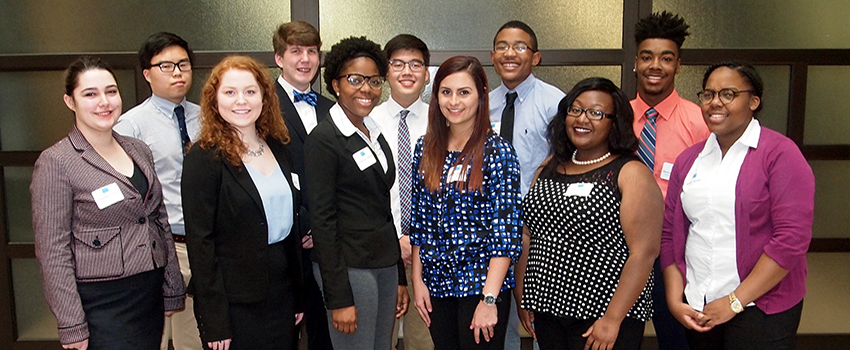 In a city wide effort between USA's Mitchell College of Business, the Mobile Area Chamber of Commerce, and the Alabama School of Math and Science (ASMS); students of ASMS were able to present new business ideas to a panel of investors for funding.
The six month YEA program taught the students how to think critically about business ventures and how to plan and develop the products and businesses envisioned by the students. On April 4th 2016 they were given five minutes to pitch their ideas to a panel of investors for funding. This young entrepreneur program and competition is a first ever for the city of Mobile and due to its success, the program will be offered to many other high schools in the area.
The students presented seven business ideas for products, services, and nonprofit organizations, competing for $5,500. Start-up monies were donated by local YEA sponsors, including: Chalkable, Alabama Power, Sam's Club, Warren Averett, Workshops Etc! and the Ben May Charitable Trust.
The winners of the competition, Isabella Frank and Dominique Williams, who are the designers of a product titled Shoe Boo, will advance to the national competition in Rochester, New York, May 5th 2016. The national competition will select six regional winners that will be eligible for the YEA Saunders Scholars National College Scholarship competition for scholarships, business start-up packages, and an all-expense paid trip to attend the U.S. Chamber's America's Small Business Summit in Washington D.C.
In addition to the Shoe Boo winners, funding was allocated to several other student projects. The businesses and entrepreneurs were as follows:
$500: Diddo Case, a new type of secure luggage that better protects important files through Touch ID and GPS tracking technologies. Entrepreneurs: Anasofia Guajardo, Wesley Oliver, Sung-Hoon Park, and Ambria Walker.
$600: Fruity Beauty, organic hair dyes, lipstick and facial masks featuring fruits and vegetables as the main ingredients. Entrepreneur: Catherine Minor.
$1,200: Odyssey, a virtual reality dating application that allows users to create avatars of themselves and go on dates in virtual reality scenes. Entrepreneur: Eric Lee.
$720: Perk Packs, customizable care packages that can be sent to students by parents, families and friends. Entrepreneur: Genevieve Tillman.
$880: Rural Rebuilders of America, not-for-profit mentoring organization paring volunteers with local youth. Entrepreneur: Messiah Williams.
$ 1,000: Shoe Boo, malleable shoe insert to protect feet from new or ill-fitting shoes. Entrepreneurs: Isabella Fank and Dominique Williams.
$600: Southern Scenes, a t-shirt company featuring college-affiliated designs. Entrepreneur: Jon Ross Sanders.
"Anytime we can nurture and strengthen entrepreneurship, we are building future wealth and ensuring a stronger tomorrow. What we're seeing through YEA is that high school students are innovative. Our partnership with the Alabama School of Math and Science and the University of South Alabama is sure to yield impressive results," said the Mobile Area Chamber's President and CEO Bill Sisson.
The panel of investors included Dr. Ron Eastburn, Assistant Professor, USA Mitchell College of Business; Brent McClure, Chief Financial Officer, Chalkable; Andy Newton, President & CEO, Southern Light; John Peebles, Principal, NAI Mobile; Jill Stork, Division Area Manager, Alabama Power Co.; and Mel Washington, Regional Manager & Lead Counselor, Alabama Small Business Development Center at USA.
"We are delighted that ASMS students have the opportunity to participate in this phenomenal program. The YEA Academy speaks to the ideas and concepts we want our students to learn. Teaching entrepreneurship skills fosters innovation and strengthens leadership skills that our students will be able to use in college and beyond. This collaborative program with ASMS, the Chamber of Commerce and the University of South Alabama has been a great partnership and a rewarding experience for our students," said ASMS President Monica Motley.
Contributed by Ms. Jennifer Edwards, Director of Student Projects and Instructor, Melton Center for Entrepreneurship, Mitchell College of Business.