South Social Justice Awards Announced
---
Posted on January 8, 2021 by Joy Washington
Joy Washington
---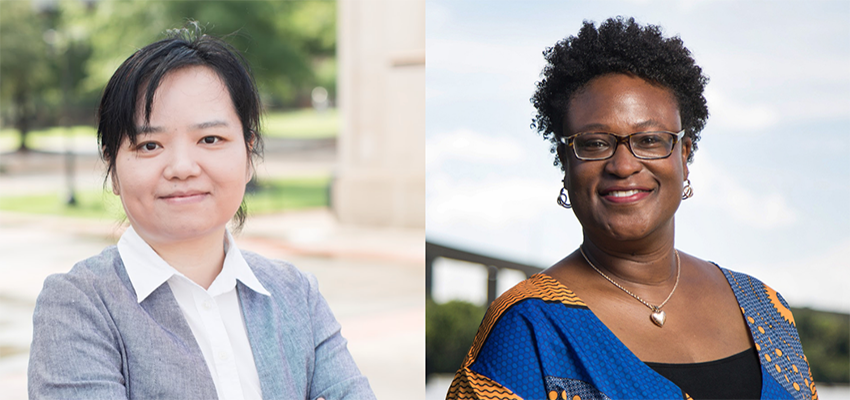 Drs. Joél Billingsley, Charlene Dadzie, Kern Jackson and Shenghua Zha were awarded Social Justice Initiative grant awards for research.
---
The University of South Alabama has announced the recipients of the first Social Justice Initiative grant awards with the goal of opening access to opportunities and strengthening civil and human rights in the community.
"We are pleased to be able to award this funding to underwrite the costs of innovative social justice projects and programs proposed by Drs. Shenghua Zha, Joél Billingsley, Charlene Dadzie and Kern Jackson," said Dr. Paul Frazier, chief diversity and inclusion officer for USA. "I'm excited about this opportunity to increase the research around social justice that includes community stakeholders as well. The span of the grant makes it exceptional."
The grant program was established to support faculty research in social stratification, environmental justice and racial equity. The recipients are Drs. Shenghua Zha, assistant professor, and Joél Billingsley, associate professor of counseling and instructional sciences, in the College of Education and Professional Studies. Their winning proposal is "Building a Positive Learning Experience to Bridge Gender Difference and Advance Middle-Grade Students' Computational Thinking Skills."
Zha, principal investigator, and Billingsley, co-principal investigator, will create the Code Team for You program, CTY, through which students from Williamson Middle and the High School Prep Academy will create a positive learning experience and study the impact of underrepresented minority students interested in computer science.
The second winning proposal is "Ethnography of Seeing: Transformative Photography for Social Justice in Africatown, U.S.A.," by Dr. Charlene Dadzie, assistant professor of marketing and quantitative methods in the Mitchell College of Business and principal investigator of the grant project. Dr. Kern Jackson, assistant professor of English and director of the University's African American Studies program, will serve as co-principal investigator.
The ethnography will offer a useful way to both gather data and consider various aspects of narratives from people in the Africatown community, where the last slave ship, the Clotilda, carried the 110 enslaved West Africans who were brought illegally to Mobile Bay. During the fieldwork, Dadzie will guide USA students in interviewing citizens of the Africatown community. Learning about the social justice struggles of poverty and lack of access to public and private social services are critical to research, which can positively help current and future generations of the Plateau area of Mobile.
The winning evidence-based proposals included the various ways race, racism, racial prejudice, and environmental and health disparities function in society. This initiative is part of USA's broader social justice effort that includes scholarships for students demonstrating leadership in social justice and perseverance. More forums with guest speakers on social justice issues, diversity and inclusion training, and community outreach and engagement events are all being planned.
The offices of Research and Economic Development, Diversity and Inclusion, Community Engagement, and Development and Alumni Relations partnered to establish the Social Justice Research Initiative to support faculty research efforts in social justice.
"South Alabama is committed to addressing some of the long-standing social justice issues. These internal grants, led by our exceptional faculty, is one step in the process of building a more equitable and inclusive campus and community," said Lynne Chronister, vice president for research and economic development at USA.
Each winning faculty proposal will receive $10,000 in seed funding to help faculty create a pilot data collection and other activities that will be long-lasting and transformational. Full-time faculty regardless of tenure track or rank were able to apply for the one-year grant.
Project Details:
Drs. Shenghua Zha and Joe'l Billingsley
Computer science is known for being a heavily male-dominated field. Studies show there's a low participation rate for girls in the STEM fields of computer and engineering. Zha and Billingsley will work to recruit female students. Each student participant will also receive a kit to help them learn the concepts of coding.
The goal is to have a positive learning experience and includes:
Cultural-relevant project-based learning.
Peer supported small group work.
Undergraduate facilitation and parental involvement.
Drs. Charlene Dadzie and Kern Jackson
Poverty often limits access to private and public social services. Dadzie's project will use ethnography, which is a photography and interview process, to collect the data and information needed. To better understand the needs of the Africatown community, students will help interview the volunteer participants gathering their individual perspectives about needs and issues.
The goal is to seek answers to important questions from a community member and student perspective and includes:
Creating community interventions to increase consumption adequacy.
Exploring how racial or ethnic and lower socioeconomic status impacts daily lives.
Promoting environmental justice.
Mitigating marketplace exclusion.
For more information about the USA Social Justice Research Initiative, contact the Office of Research and Economic Development at awards@southalabama.edu.
---
---