Morrissette Named Campus to Career Coordinator
---
Posted on June 14, 2021 by Thomas Becnel
Thomas Becnel
---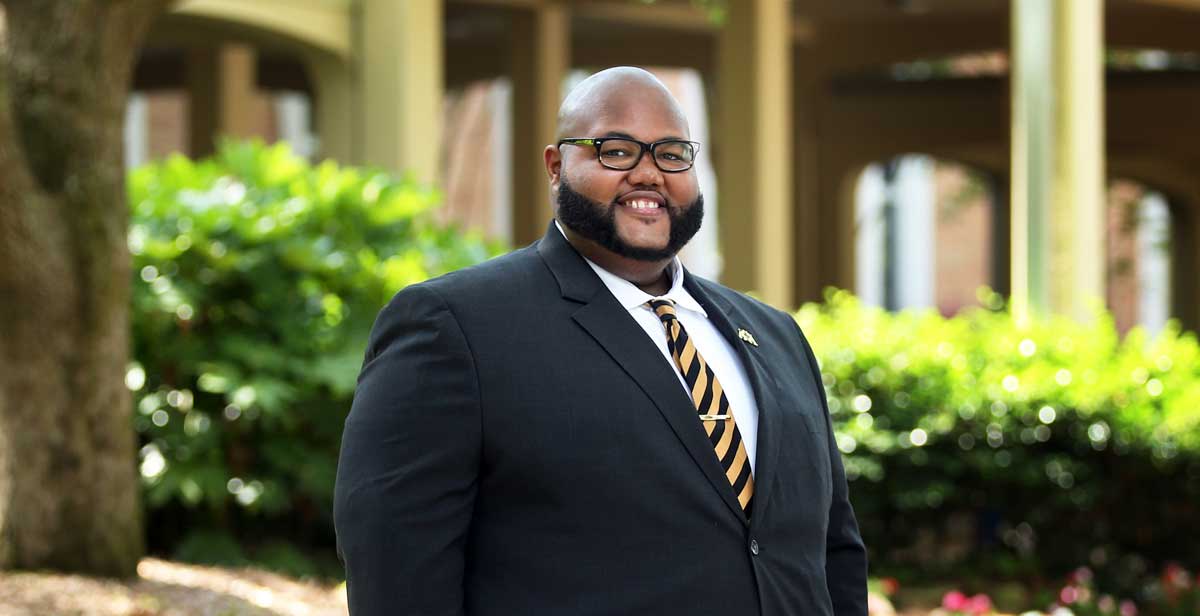 Broderick Morrissette was a graduate assistant in the University of South Alabama Office of Diversity, Equity and Inclusion, where he has started as its first Campus to Career coordinator.
---
#MyFirstJob is a series focused on University of South Alabama graduates who are beginning their careers.
Broderick Morrissette, the new Campus to Career coordinator for the University of South Alabama Office of Diversity, Equity and Inclusion, just spent six years at USA earning bachelor's and master's degrees.
He took classes every fall, spring and summer semester.
"It's funny, I've been in school since the summer of 2015 – no breaks," he said. "Once I have a goal in mind, it's kind of tunnel vision."
Even before college, the Prichard native spent his summers at South. While enrolled at Vigor High School, he joined the Upward Bound program.
Students took classes on campus. They lived in residence halls, ate in the cafeteria and played at the Student Rec Center. They made field trips to cities such as New Orleans and Washington, D.C.
"The whole experience was nothing short of amazing," said Morrisette, 24. "The background I had growing up, we didn't get to see what college was like. That program made college seem real and attainable."
At South, he earned a bachelor's degree in information technology. Then he earned a master's degree in education with a concentration in higher education administration.
As a graduate student, he was an assistant to Dr. Paul Frazier, South's chief diversity, equity and inclusion officer. Morrissette helped start the program. Frazier became a mentor.
"He internalizes what I need," Morrissette said. "He puts opportunities there for me before I even know what I need."
After completing his master's degree, Morrissette thought about moving to another job – or another university – to broaden his experience. Instead, he chose to stay at South.
"I'm excited to get to work," he said. "I was touched that he'd think of me for a program of this magnitude. And I like the idea of making something happen in Mobile."
Morrissette may work out the University administration building, but he hasn't adopted Frazier's suits or colorful bow ties. He still dresses like a graduate student. This is by design.
"A suit can be a little intimidating," he said. "I want to maintain a level of approachability with students. I do a polo shirt and slacks most of the time."
In the Office of Diversity, Equity and Inclusion, his supervisor is now a colleague, but it's not like they're on a first-name basis.
"It's still 'Dr. Frazier,'" Morrissette said, laughing. "I might call him Paul sometime. I'm still adjusting."
Highlights and Anime
Broderick was raised by his mother, LeTisha Morrisette, and his grandmother, Sharron Morrissette.
He was always a reader. He remembers paging through the encyclopedia and waiting for the latest issue of Highlights magazine. In school, he qualified for a gifted program called PACE – Pursuing Academics, Creativity and Excellence.
Later, in 8th grade, he started misbehaving in school.
"My grandmother gave it to me straight," he said. "She said, 'Broderick, this is not you. We have expectations for you.' So I got my act together."
In high school, he wanted to get a part-time job. His mother insisted that he focus on his studies. He made good grades and participated in several clubs and student organizations.
Morrissette became a fan of anime. He enjoyed the artwork and detailed characters. His favorite figure from a graphic novel was the young ninja named Naruto.
"He was always the underdog," he said. "He found a way to persevere through everything."
Just after he began graduate school, Morrissette's grandmother died. Near the end of his program, his mother passed away. He thought of them when he received his diploma.
"They were the ones who pushed me in school," he said. "Early on, they saw I had the aptitude and big ambitions."
Becoming a Mentor
As a student at South, Morrissette was involved with the First Year Council and the Student Government Association. He joined the National Honor Society, National Society for Black Engineers and Collegiate 100, the student organization that's part of 100 Black Men of America. After graduation, he became part of Alpha Phi Alpha Fraternity, Inc.
Many people guided his career along the way.
Now, as Campus to Career coordinator, Morrissette will help students work toward graduation. The diversity office has had more than 300 applicants for 24 new scholarships.
"That's good, because it demonstrates a need for the program," he said, "but administratively, it's going to take some time."
He likes the idea of starting something at South. He's working with partners such as the Center for Academic Success. Goals for the program include building support networks and raising retention rates.
"The main objective is to look at the gap between opportunities and outcomes," he said. "How do we fill these gaps? How do we give people what they need? The success of a university is measured by its least advantaged students."
As a graduate assistant, he began giving out his cell number to students. The response was good. Maybe too good.
"Once they trust you, it's game on," he said. "They will call you, they will find you, and I'm fine with that."
Morrissette is studying the basics of mentoring and what it takes to become an effective leader. He learned from his own experience at South. He knows where to begin.
"Always lead with empathy," he said. "They say, 'People don't care what you know until they know how much you care,' and I think that's true. That's my guiding principle."
---
---