---
Posted on August 11, 2023 by Thomas Becnel
Thomas Becnel
---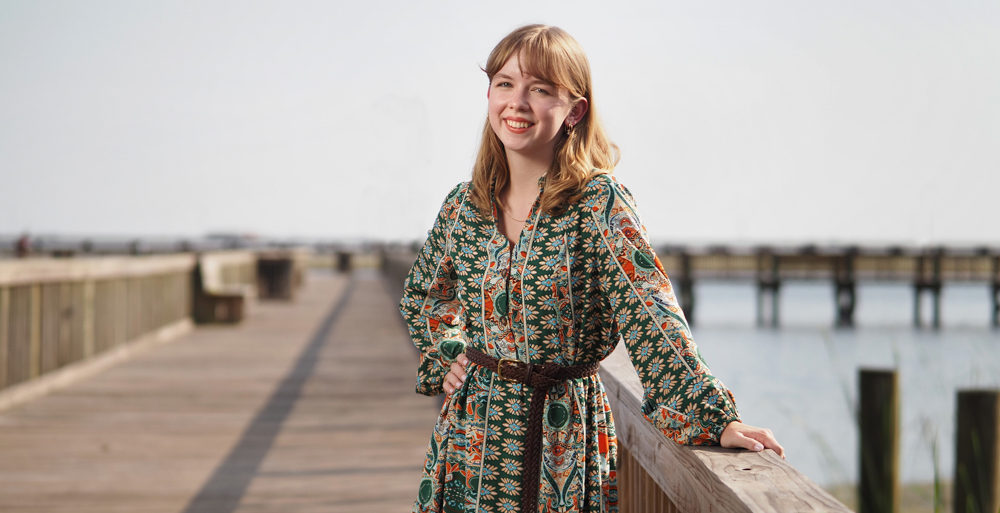 Livie Puranen, a recreational therapy graduate from the University of South Alabama, uses fun and games to help people with disabilities.
---
#MyFirstJob is a series focused on recent graduates of the University of South Alabama.
After earning a bachelor's degree in recreational therapy from the University of South Alabama, Livie Puranen started work with Trinity Health PACE of Pensacola.
PACE stands for Program of All-Inclusive Care for the Elderly, but she still hasn't seen any clients. Puranen is starting a new service at a new facility, which means months of planning and preparation.
"We're having to build a recreation therapy program from scratch," she said. "It's a little terrifying, but exciting."
It won't be the first time Puranen has created something from nothing. While a student at South, she volunteered at the Mulherin Home in Mobile, which cares for people with developmental disabilities. She saw the opportunity for a group project that could challenge older residents with something different, something fun.
Her plan for drama therapy became a short film, "Murder at the Mulherin Mansion," which engaged the clients who appeared in it, the clients who watched it, and the clients who did both.
"They loved it," Puranen said. "They went crazy for it. It's a fun activity to play pretend. This group of people, they all had intellectual disabilities, and didn't get much of a chance to express themselves. It turns out they had quite a lot to say."
Her film project was featured this year in a "Sincerely, South" podcast for the College of Education and Professional Studies. Shelly Bates, a South instructor in Health, Kinesiology and Sport, thought Puranen's work showed initiative and pluck.
"That idea was kind of her own," Bates said. "She wanted to do something creative for the clients, so she wrote the script, helped out with the costumes – she did everything. She's very motivated to do things, try things, think outside the box."
The undergraduate degree program in recreational therapy offers students the chance to begin work right after graduation. Job satisfaction comes with improving the quality of life for elderly clients or those with mental and physical disabilities.
"I think it's the ability to become a motivator and give people meaning in their lives," Bates said. "Students wants to be in a care-giving profession where they have an opportunity to help others that is more creative."
Sisters Marching and Drumming
Puranen grew up in Prattville, Alabama, north of Montgomery. Her given name is Olivia. After graduating from high school, she enrolled at South, where her older sister, Lucy, is working on a doctorate in audiology.
Both sisters played the drums for the Jaguar Marching Band. Livie became a section leader. She enjoyed the hard work and commitment required by the music program.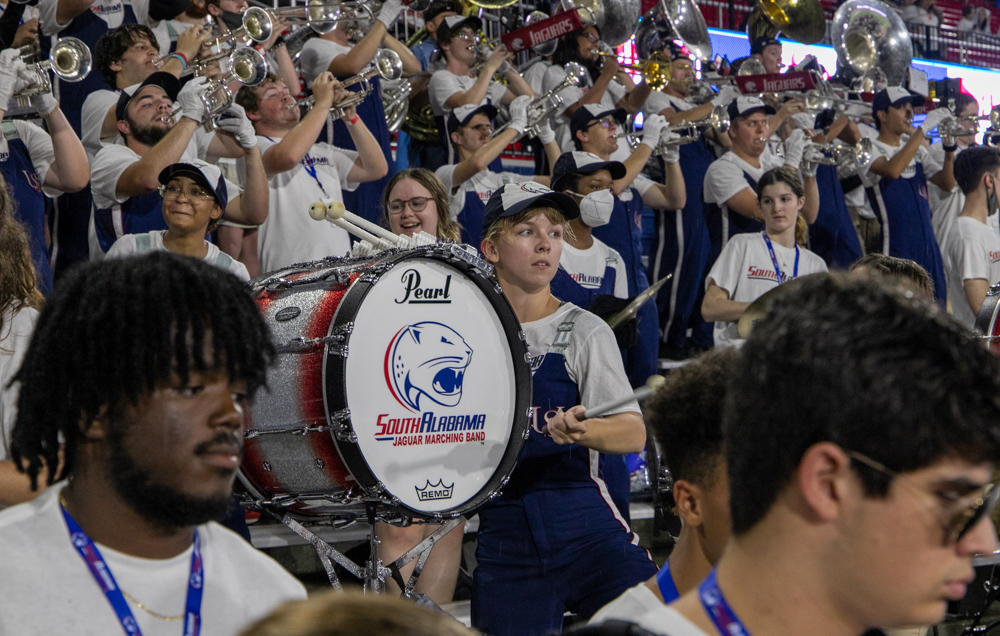 Livie Puranen, center, was a section leader in the Jaguar Marching Band.
"You really have to be into it," she said. "You can't hide behind anyone else. As a section leader, it's not easy to lead your peers. Learning those skills was super helpful for me."
Puranen hopes to return for the Homecoming football game this fall for South's 60th Anniversary and play with the Alumni Band.
She had planned to study anthropology as an undergraduate, but became interested in other things. A random moment sent her in a new direction.
"I was in a freshman orientation class and we had a resume-building program," she said, laughing. "There was a sample resume for a recreational therapist, and I thought, I'd really be into that. That's right up my alley. So I changed my major."
At South, Puranen also found time to participate in the drama program at the Laidlaw Performing Arts Center. She appeared in a one-act play, "The Wolves," which is about teenage girls on a high school soccer team.
"The play is pretty emotionally raw," she said. "It's about teenage girls going through what they're going through."
She and Gray Armstrong, who earned a degree in Digital Film and Television Production at South, make independent films in their spare time. One of their projects is a horror movie called "Magnum Road."
When Puranen began volunteering at the Mulherin Home, she would ask clients what they did and what they liked. When they asked her the same question, she told them about making movies. They said that sounded like fun, which led to "Murder at the Mulherin Mansion."
During her residency at the West Florida Rehabilitation Institute, Puranen did a drumming exercise program. Clients used pool noodles as drum sticks to play along with popular tunes.
"It was almost like seated Zumba," she said. "We were working with stroke patients and people with brain injuries. And it was fun, something they could do as a group."
In her spare time, Puranen enjoys music and crafts such as making quilts. She also restores vintage Barbie dolls, which is now in vogue, thanks to the new "Barbie" movie.
"It's exploded recently," she said. "As you can imagine."
Puranen was hired by Trinity Health PACE just before graduation in May, which was a load off her mind. Instead of jumping right into a program, though, she's had to work on creating one.
"It's definitely a big challenge," she said. "We're also trying something really different. We're focusing more on the functional and clinical approach of using recreation to address goals that come from the deficits that these participants have."
Puranen appreciates having time to develop a master strategy, but can't wait to turn plans and schedules into programs and therapy.
"Right now, we're just an empty building," she said. "I'm so ready to have people come in and be able to do things with them. They're the people who make me love what I do."
---
---