USA Instructional Design and Development Faculty, Staff, and Students attend AECT International Conference
---
Posted on January 7, 2020 by Amber Day
Amber Day
---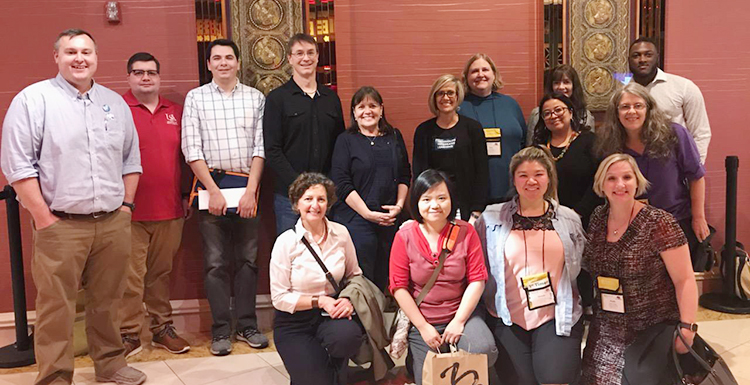 ---
University of South Alabama College of Education and Professional Studies Instructional Design and Development (IDD) faculty, students, and alumni had a strong showing at the recent Association for Educational Communications and Technology (AECT) International Convention in Las Vegas, Nev.
More than 1,000 instructional design and development students and professionals from around the world attend the convention each year.
"I've personally been attending the convention for more than 30 years, which started with my being a convention intern while I was in graduate school," said Dr. Gayle V. Davidson-Shivers, a professor of instructional design and development at South. "The convention serves as a unique professional development opportunity for instructional designers. It's been a goal of mine to increase the showing of South students and alumni, and we really showed out this year."
Davidson-Shivers is one of the first faculty that helped start the Ph.D. program in instructional design at South. She is dedicated to the field and serves as a board member for AECT Design and Development Division.
"AECT is a true community of professionals," Davidson-Shivers said. "Going to the conference is a way for South faculty, alumni, and current students to connect. We go out together as a big group for dinner, which is really a lot of fun and we all look forward to it each year."
Dr. Davidson-Shivers started the "annual gathering for dinner" about 10 years ago. She's been instrumental in encouraging her students and alumni to attend, and more than 20 were present at the convention this year.
Other South faculty involved in the convention include Shenghua Zha, assistant professor in instructional design and development, and Dr. Joe Gaston, assistant professor in educational media and technology.
Fred Baker, who earned a Ph.D. from South in instructional design and development, was the recipient of the Charles M. Reigeluth Emerging Researcher Award in recognition as an "early career scholar whose work is emerging as important to the field of systemic change, diffusion of innovations, systems theory, or change management."
USA IDD Alumni in Attendance -
Byron Havard, currently a full professor at University of West Florida
Thomas Lamey, assistant professor and director of clinical education, respiratory therapy at Salisbury University
Holly Ellis, tenured associate professor at University of West Florida
Fred Baker, visiting assistant professor University of West Florida
Rebecca Reese, online learning experience designer at Colorado School of Mines
Angela Doucet Rand, full professor and director of Marx Library and interim director of Baugh Biomedical Library at the University of South Alabama
Sylvia Rogers, consultant for scholarship of teaching and learning for the Harrison School of Pharmacy at Auburn University
Sandra Annette Rogers, instructional designer at University of California-Los Angeles
USA IDD Graduate Students in Attendance -
Phillip J. Ward, master's graduate and current doctoral student
Michelle Loo, master's graduate and current doctoral student
Rebecca Wheeler, doctoral student
Yolany Lagos Ortiz, doctoral student
Randy Bumpers, master's student
Anthony Wheeler, doctoral student
Brandon Moss, doctoral student
Click here to see a chart of presentations given by USA faculty, staff, and alumni at the AECT convention.
USA offers the Master of Science and Doctor of Philosophy degrees in Instructional Design and Development. Both programs provide high-quality educational opportunities that combine practical, hands-on activities with a theoretical foundation. Many of the courses are web-based, and it's possible to complete the master's degree completely online. The department also offers two graduate certificate programs (Human Performance Improvement and Instructional Design and Development).
---
---