Sport Management Graduate Student Qualifies to Run Boston Marathon
---
Posted on March 6, 2020 by Amber Day
Amber Day
---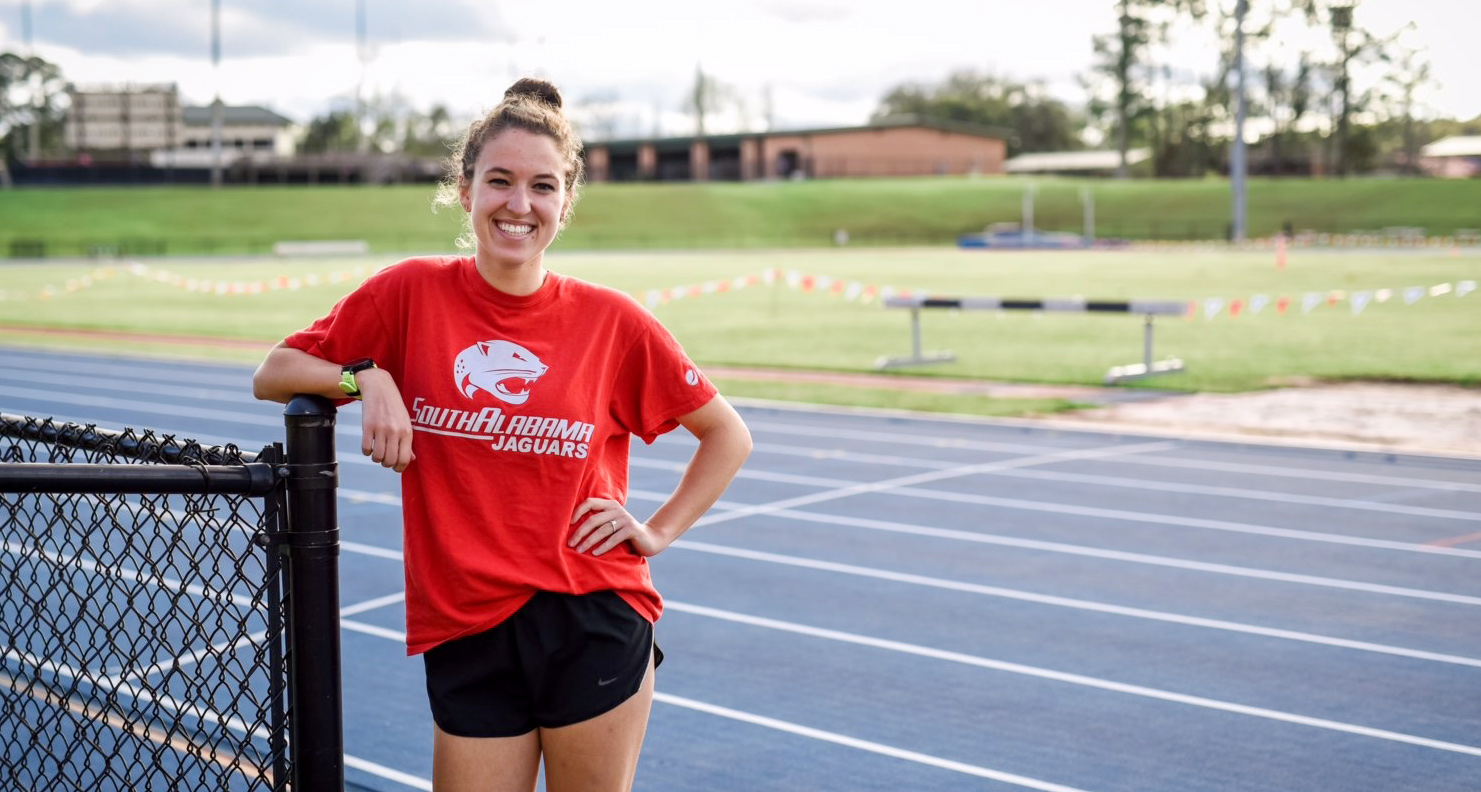 Meaghan Borowski is a current graduate student in the sport management program at the University of South Alabama and will be running the 124th Boston Marathon.
---
Meaghan Borowski started running cross country when she was a sixth grader at Minnetonka Middle School West in Minnesota. Borowski loves to run.
She ran cross country and track all four years at Minnetonka High School, and, in her senior year, Borowski was part of a 4x800 meter relay team that won the state meet.
While competing for the University of Minnesota-Duluth, Borowski earned All-American honors her senior year of cross country by finishing 23rd at the NCAA Division II National Championship.
"When I started running cross country in the sixth grade, I also wrote my first bucket list," Borowski said. "The first item on that list was to run the Boston Marathon."
Borowski is a current graduate student in the sport management program at the University of South Alabama and will be running the 124th Boston Marathon in April.
"Not just anyone qualifies for this race," said Dr. Brooke Forester, an associate professor in the USA College of Education and Professional Studies. "She is fast. She has a great work ethic and is such a humble, unselfish person ... the kind of student we wish we had in every class. I'm glad she made the leap from Minnesota to join us."
Running the Boston Marathon is nothing new for Borowski. She ran the Grandma's Marathon in June 2018 in Duluth, which qualified her to run in the 2019 Boston Marathon.
"When I run, I have good days and bad," Borowski said. "But when I hit a bad day, I remember how blessed I am to have legs that can carry me through 26.2 miles and those who can't, and I pick myself up and get it done."
Borowski majored in communication and minored in American sign language and deaf studies for her undergraduate degree at Minnesota-Duluth.
"I wanted to go to graduate school to further my education, and sport management at South was the right fit," Borowski said. " I ultimately want to coach, so I knew I needed to learn the ins and outs of the sports world, like marketing, leadership and finance, and gain hands-on experience."
Borowski decided to enroll in South's online sport management program because of the flexibility. She also earned a graduate assistantship, which provides tuition reimbursement and a stipend, and serves as a volunteer assistant coach for the USA cross-country and track and field teams.
"While volunteer assistant coaching for Coach Cowles seemed like a perfect fit, the warm weather year round might have also played a part in me leaving the arctic tundra," Borowski said.
Borowski works hard to be cross-country head coach Parker Cowles' right-hand woman. She travels to various meets, helps coordinate travel, creates workout plans, works with various event groups and leads different cross-training sessions.
"I am so lucky to be learning from him," Borowski said. "He has taught me so much about working productively with collegiate student-athletes."
Borowski cherishes her time working with the teams.
"Honestly, each day is a success story one way or another," Borowski said. "These athletes are some of the most dedicated and motivated athletes I've had the pleasure to work with. They have touched my heart, and I could not be more thankful to play a part in their lives. Whether it's seeing the athletes reach their goals, race at conference meets or come back after an injury, I cherish the moments that make the whole process worth it."
As a graduate assistant for the department of health, kinesiology, and sport, Borowski teaches aerobics on Monday and Wednesday, volleyball on Tuesday evenings and proctors bowling on Wednesday afternoon.
Borowski is passionate about her research, which involves looking at the role coaches play in the mental and physical well-being of elite female marathon runners.
"More specifically, I am looking at what type of impact coaches have in creating and maintaining an effective training plan to address key issues often associated with the female athlete triad and mental health," Borowski said. "Coaches have an incredible impact on the lifestyles and mental health of these athletes, and it is important to reach out and ensure athletes are their best selves before their best runners. I am passionate about this topic because I am working toward becoming a head coach."
Borowski works closely with faculty in the department and is thankful for their support.
"The instructors in the HKS department are some of the most kind, caring, brilliant people I have ever met," Borowksi said. "They are always willing to help in any way they can and truly support every student with their individual needs."
Outside of the program's flexibility, Borowski said there are a wide variety of classes offered that she feels will help her stand out as a professional in the future.
"Many of my classmates live out of state and have full-time jobs, so allowing them to earn their master's online is very cool," Borowski said. "The program is extremely affordable. It is exciting to learn various aspects of sports management to become a well-rounded expert."
Borowski plans to graduate in fall 2020 and sees herself coaching cross-country and track and field at the university level full time.
"My fiancé is a lieutenant in the United States Air Force, so we are open to moving anywhere in the U.S.," Borowski said. "I believe keeping an open mind about the future and not being limited to a specific area is important. I am from Minnesota and moved to Alabama; change is a good thing."
Borowski's passion for running is something she loves to share with others.
"I have met so many incredible athletes and coaches from my experiences, and I truly could not have gotten where I am without them."
---
---