CLINIC preceptors provide patient care experience to medical students early in their training
---
Posted on August 9, 2021 by Casandra Andrews
Casandra Andrews
---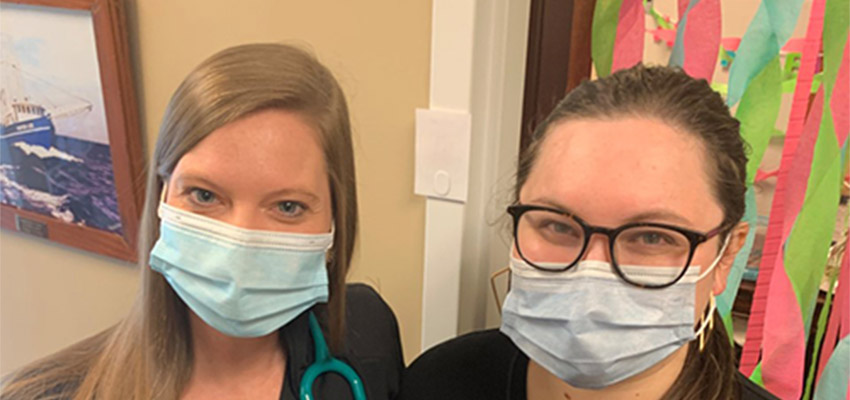 ---
A decade ago, Emilie White Hallford, M.D., graduated from the USA College of Medicine. She spent the next few years in the internal medicine residency program at USA, further developing her skills as a physician.
Shortly after accepting a position at a private practice in Mobile, Hallford also signed on to take part in the CLINIC program, which offers medical students at USA a chance to see what it's like to care for real patients (not actors or mannequins) in a clinical setting.
"I felt like this was a good way for me to give back and personally contribute to the education of the next generation of physicians," Hallford said. "Students come in for four to five hours at a time, and we go over real-world medicine."
This summer, with COVID precautions still in place, students who paired with Hallford at Ascension West Mobile Medical Group were able to experience in-person and virtual visits alongside the doctor. The response from patients and students has been positive. "I've had a lot of feedback from students who told me they never realized internal medicine could be so diverse and fun," she said.
Internal medicine specialists, or internists, diagnose and treat diseases in adults. An internist may act as a patient's primary care physician, treating general illnesses as well as providing complex care. Internists with additional training also may sub-specialize in certain areas of medicine such as cardiology, endocrinology, nephrology, pulmonology, gastroenterology and rheumatology.
Patients tell Hallford they enjoy taking part in the medical education process and talking with students about their health concerns. With permission, Hallford sends students in alone to see patients to take medical histories and vital signs.
"Dr. Hallford has been an active participant in the CLINIC program, offering our M1 students the opportunity to gain real-world experience, despite the challenges posed by the pandemic," said Elizabeth Minto, M.D., assistant professor of neurology and director of clinical skills at the USA College of Medicine.
"The students have been respectful, kind and compassionate," Hallford said. "It definitely has enhanced the experience for our patients."
The CLINIC program was established at the University of South Alabama College of Medicine in 2017, giving new medical students typically their first opportunity to gain hands-on clinical experiences by partnering with local family medicine, pediatric and internal medicine practitioners.
The program stresses patient-centered care and partners with medical professionals with a penchant for physician development and education.
"It has been fun to hang out and talk about healthcare and guide their education in a meaningful way," Hallford said. "We share stories about medical school, and I try to offer encouragement, letting them know that it may be stressful right now, but they have what it takes to work through it and thrive."
---
---