The Interview Process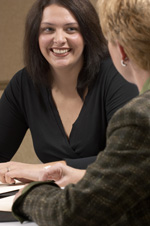 The interview day affords us the opportunity to learn more about you than your application can tell us. The day also allows you to find out more about the USA College of Medicine. We want to get to know you; we are interested in the depth of your intellectual curiosity, your values and your commitment to a career of service. Your interviewers will ask you a variety of questions that will help them determine your communication skills, compassion for others and your motivation for practicing medicine in a multicultural society.
Your Interview Day
Begins at 7:50 a.m. with an opening session and breakfast.
Includes three 30 to 40 minute individual interviews with members of the Admissions and Ad Hoc Committees, followed by lunch with current medical students.
Concludes with a tour of one of the USA Hospitals, generally ending by 2:30 p.m.
In most cases, you will need to provide your own transportation for off campus interviews.