Board games, origami frogs help students cope
---
Posted on February 18, 2022 by Carol McPhail
Carol McPhail
---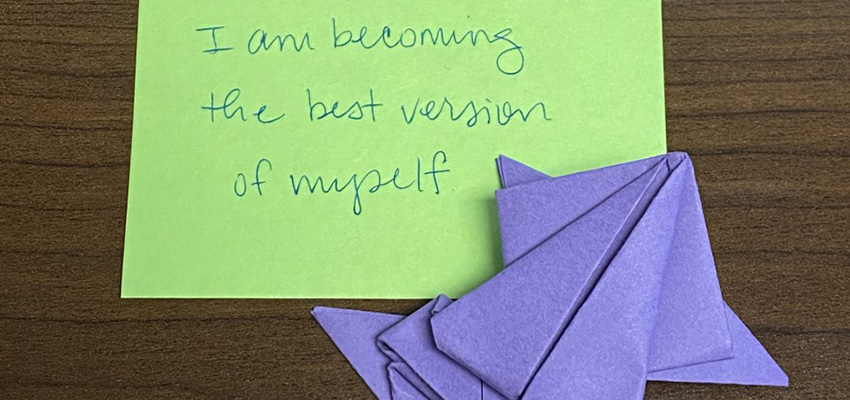 During a recent wellness session, medical students were invited to write a list of affirmations. They also created origami jumping frogs out of colored paper.
Download larger image
---
It's difficult enough to be a medical student in the best of times. But add a pandemic to rigorous coursework, and the stress can go through the roof. That's why the USA College of Medicine is applying a variety of approaches to help students stay mentally and emotionally healthy.
Current wellness initiatives run the gamut from specially trained peer supporters to monthly "de-stressing" events.
"Outside of COVID, the main challenge is finding work-life balance," explained Becky Smith, Ph.D., health and wellness counselor at the USA College of Medicine. "COVID adds another layer of stress and conscientiousness to this challenge."
Necessary COVID-19 protocols such as online learning, masking and social distancing can leave students feeling isolated at a time when they need support the most. "I think about the current M2 students, who started the program during COVID," Smith said. "With the limits on social activities, we could feed them, but it had to be grab-and-go. We lost an element of being with our cohort and enjoying each other's company."
To combat the isolation, a wellness council plans monthly events when feasible. Last semester, the council organized a board game night in which medical students were invited to bring a favorite board game to the Medical Sciences Building to share. Trivia nights also allow for a little friendly competition.
Meg Lyons, a third-year medical student, said that game nights provide an opportunity to bond with classmates and get to know them in a different way. "It's cool getting to go toe-to-toe with people in Catan, Ticket to Ride or one of the many other games people bring to share," she said. "A little bit of low-stress, friendly competition really brings people together."
Last month, medical students also were invited to play wellness Bingo in which they engaged in healthy activities suggested in squares on the board. The first to finish a row or column won a prize.
When students need immediate help, they can reach out to designated, trained students in their class. Each class elects two peer supporters to be points of contact for fellow students who are struggling. Peer supporters are trained in mental health first aid, and they stand ready to provide resources or referrals to the wellness office for those who need it. "It's a little less intimidating to reach out to a fellow student when someone is in crisis or distress," Smith said.
Meanwhile, wellness forums, required for third-year medical students, create space for informal discussions that can help students cope. One session in November was titled "Growing Resilience through Gratitude."
"We talked about what gratitude is and how being grateful can help foster resilience," Smith said. During the session, the students were invited to write a list of affirmations and things to be thankful for as part of the activity. They also created origami jumping frogs out of colored paper.
"With the cute frogs, you kind of got to be a kid again," Smith said.
---
---