USA College of Medicine adopts hybrid teaching model
---
Posted on September 9, 2020 by Carol McPhail
Carol McPhail
---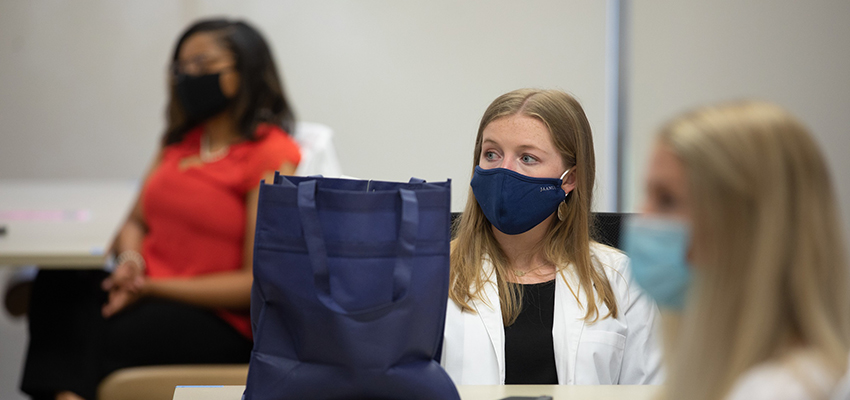 USA medical students are learning using a new, hybrid model as a result of the COVID-19 global pandemic.
---
In an effort to prioritize student and faculty safety while maximizing learning opportunities, University of South Alabama College of Medicine classes have moved to a hybrid model as the COVID-19 global pandemic continues.
The new curriculum model for first- and second-year medical students, launched August 3, 2020, includes a mixture of in-person classes and remote learning initiatives. Classes have been divided into three waves to decrease the number of students meeting in a classroom at a given time.
"We are all going to need to be flexible and adaptable," said T.J. Hundley, M.D., associate dean for medical education and associate professor of internal medicine at USA's College of Medicine. "We will get feedback from faculty and students as we use these new approaches. There will be successes and opportunities for improvement, and we will be ready to make changes as needed."
On the days that groups of students are not attending class in person, Hundley said, live activities are being offered through the digital platform Zoom so students still actively participate from home.
Across the nation, the pandemic has required logistical and infrastructure adjustments from medical school faculty and staff to best accommodate physicians in training.
USA faculty members, Hundley said, are working to maximize learning time by delivering online lectures and developing more virtual small-group activities for third and fourth-year medical students, who also take part in direct patient care in their clinical rotations at USA Health facilities.
So far, feedback for the new learning model has been positive.
"There was a lot of excitement from our M1 and M2 students," Hundley said. "They are excited for the opportunity to come back onto campus and interact with patients, classmates and faculty."
---
---