Match Day is only weeks away
---
Posted on February 22, 2021 by Carol McPhail
Carol McPhail
---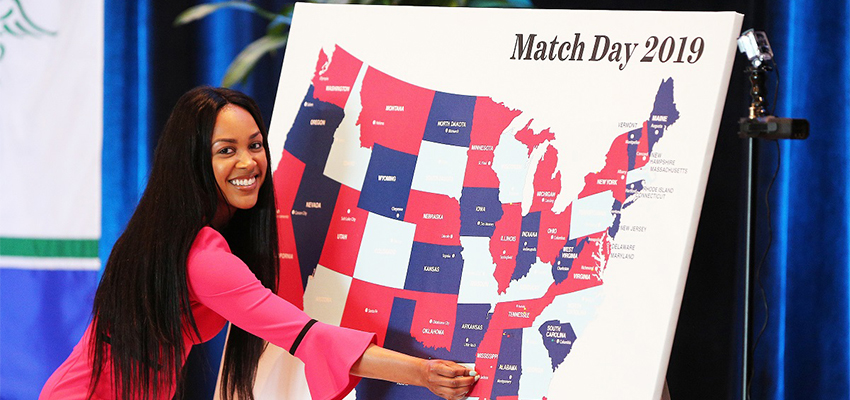 ---
In his first year of medical school at the University of South Alabama College of Medicine, Zachary White watched fourth-year med students pin their residency sites on a map on Match Day. The tradition made a big impression on White, now in his fourth year.
"I thought to myself, 'In a few years, that will be the Class of 2021 celebrating all of the hard work we'd done,'" said White, who is class president. "Unfortunately, the COVID-19 pandemic unfolded and caused many of us to question what our celebrations would look like in the midst of these difficult and socially distant times."
Recently, the USA College of Medicine received approval to host an in-person Match Day following a year in which COVID-19 forced the event to go virtual.
Members of the Class of 2021 are looking forward to Friday, March 19, when they will convene at 11 a.m. for Match Day in the Student Center Ballroom on the USA campus. Only members of the class and the staff necessary to hold the ceremony will be allowed to attend. However, the event will be live-streamed to allow families and friends to participate virtually.
"We are glad that the class will be able to celebrate this important occasion together, even socially distanced," said Kelly Roveda, M.D., associate dean for student affairs at the USA College of Medicine.
As is the tradition, students will take turns announcing their residency placements and pinning the geographical locations on a map on stage. Although no group photo is planned, students will be photographed individually as they pin the map.
"We're thrilled that we will have the opportunity to share with family and friends across the country via the live stream where we matched for our residency programs," said White, who has applied to radiation oncology programs. "I am really looking forward to seeing the excitement from my classmates as they pin on the map where they will be living for the next few years."
White said he expects the coming days to be emotional for him and his classmates.
"This past year has been filled with stress and uncertainty throughout this country; however, hope is what will bring us together in times in which we are distant," he said. "The Class of 2021 will be the new soldiers on the front lines of this war against COVID-19, and I believe that the USA COM has us well-trained to take on this fight to save lives."
---
---