Match Day 2020: What you need to know
---
Posted on January 21, 2020 by Lindsay Lyle
Lindsay Lyle
---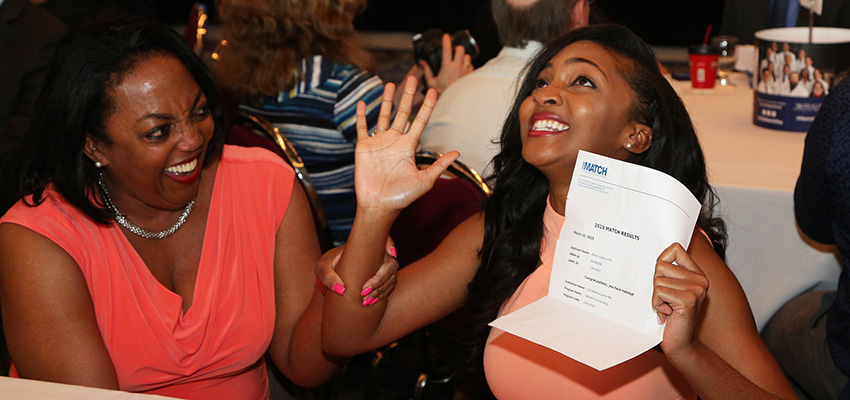 ---
On Friday, March 20, senior medical students across the United States and Canada will simultaneously find out the results of this year's National Residency Matching Program, better known as Match Day.
The University of South Alabama College of Medicine's Match Day ceremony will begin at 10:30 a.m. in the Christ Center Gym at Christ United Methodist Church in Mobile.
Envelopes containing Match results will be handed out to students shortly before 11 a.m. At 11 a.m. sharp, students may open their envelopes to find out where they will be doing their residency training.
Then, one by one, students will take the stage to announce the location of their residency programs and mark them on a map.
"Every year Match Day has grown to a bigger and bigger event," said Kelly Roveda, M.D., associate dean of student affairs at the College of Medicine. "Historically, we've had about 600 people attend, which includes students, families, clinicians, faculty, friends and the public."
Roveda recalled that 1990 -- the year she graduated from the USA College of Medicine -- was the first year Match Day was held off-site. Before then, there wasn't much fanfare surrounding the results.
"A long time ago, students got their envelopes in the conference room in the hospital," she said. "You came from your clerkship, opened your envelope, and that was that."
The venue for this year's event was selected due to its ample and accessible parking, ability to accommodate 600 or more people, beautiful grounds and welcoming staff, Roveda said.
M4s should plan to arrive at 8:45 a.m., and breakfast (for M4s only) begins at 9 a.m. After breakfast, students will gather for the class photo and group photos. Doors will open to the public at 10 a.m.
Christ United Methodist Church is located at 6101 Grelot Road in Mobile.
---
---