Medical Student Spotlight: David Gahan
---
Posted on August 5, 2021 by Lindsay Lyle
Lindsay Lyle
---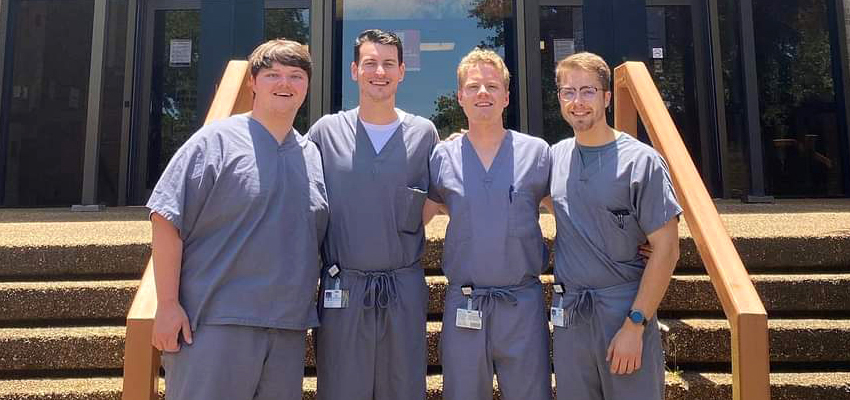 David Gahan of the Class of 2024, far right, poses with classmates outside the Medical Sciences Building.
---
When David Gahan joined the Class of 2024, he dived right into the community and took advantage of opportunities to get involved at the USA College of Medicine.
This past summer, the 23-year-old worked in the Office of Diversity and Inclusion as a program assistant for the SouthMed Prep Scholars Program, designed to enhance medical school access and success for individuals who are underrepresented in medicine.
He also conducted research with Jon Simmons, M.D., associate professor of surgery and pharmacology at the USA College of Medicine and chief of trauma, acute care surgery and burns at USA Health. They sought to determine potential barriers for lower socioeconomic status populations to receiving the COVID-19 vaccine.
Gahan is involved in several student interest groups, including internal medicine, family medicine, and culinary and lifestyle medicine; and he hopes to start an interest group concerning Step 1 preparation for second-year students. He serves as the M2 community service co-chair and is involved in the Christian Medical Ministry of South Alabama.
"The most impactful part of my medical school journey so far has definitely been the amazing community that my class has built over this past year," Gahan said. "My classmates are all the most incredible people I have ever met, and I couldn't imagine going through med school without them."
Gahan earned undergraduate degrees in biomedical sciences and neuroscience from the University of Alabama at Birmingham. While he always has been interested in pursuing a career in medicine, he said his experiences shadowing and volunteering during college confirmed that medicine is his passion.
He chose the USA College of Medicine because of the small class sizes and welcoming community. "On my interview day, several students passing by were friendly enough to recognize that I was interviewing and stopped to introduce themselves and wish me luck," Gahan said. "All the interactions I had with students and faculty here were positive experiences."
A self-described "health nut," Gahan enjoys cooking, working out and finding new places to eat in Mobile. He also loves reading – when he has the time and brain power – and playing Super Smash Bros. and board games with his roommates.
---
---