Medical student learns healthcare and leadership through the Primary Care Pathway Program
---
Posted on August 5, 2021 by Brittany Otis
Brittany Otis
---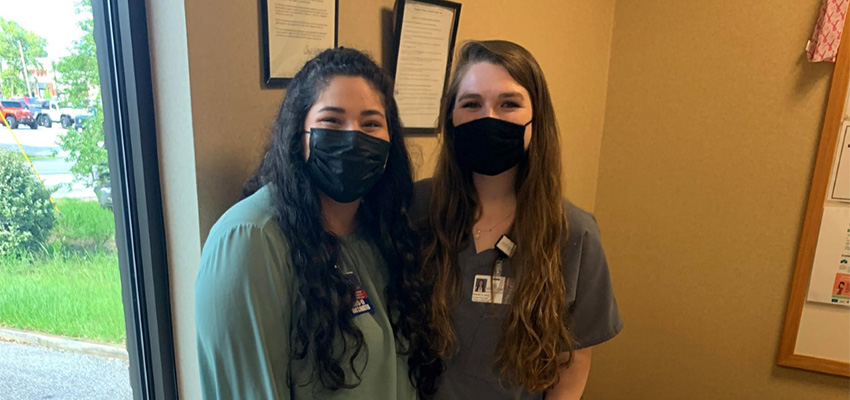 Medical student Meghan Rice, right, teamed up with Primary Care Pathway coordinator Kayla Brown to work on a COVID-19 vaccine hesitancy quality improvement project this past summer.
Download larger image
---
Before her first year of medical school, Meghan Rice read an article about the Primary Care Pathway Program in the USA College of Medicine's news blog, Med School Watercooler. She immediately knew she wanted to take part.
"I knew it was a great fit for me because I wanted exposure to longitudinal care in underserved communities," Rice said. "I've always wanted to make a difference in healthcare and knew being a part of this program was one of the ways to do it."
The USA College of Medicine launched the Primary Care Pathway Program in July 2020. The goal of the program is to improve healthcare for underserved populations and increase the number of primary care physicians in Alabama.
The program enrolls 10 medical students each year based on their interest in primary care and a willingness to commit to the practice following residency training.
Data gathered by America's Health Rankings showed Alabama had more than 241,000 primary care physicians in September 2020. The state population is more than 4 million. Alabama has a shortage of primary care physicians, specifically in rural areas, which makes the program important for growth of the primary care specialty in the state.
Rice was chosen to participate in the program by faculty members including Allen Perkins, M.D., professor and chair of family medicine at the USA College of Medicine and a family medicine physician at USA Health.
The program allows medical students to care for underserved patients at the community level and beyond the hospital, Perkins said.
The Primary Care Pathway Program also will increase primary care training at the USA College of Medicine. To benefit the broader student body, faculty members will be trained in population health and social determinants of health, which will be infused into the curriculum for all students.
Rice enjoys learning about these topics from her professors.
"We have great faculty speakers within the program who give talks on health topics such as high-value care and culturally-responsive medicine," Rice said. "Hearing their insight during these lectures helps as we navigate the program and interact with our patients."
Rice successfully completed her first year in the program at the Franklin Loxley Family Medical Center in Baldwin County's Loxley community.
The program currently serves four other rural clinics including AltaPointe Health in Bayou La Batre; Franklin Medical Mall in Mobile; Franklin South Baldwin Family Health Center in Foley and the Mobile County Health Department in Semmes.
"During the first year of the program, I was able to connect with patients in the clinic and learn about physician-patient relationships," Rice said. "I am so excited to continue building on this foundation."
While in medical school, Rice decided to pursue another venture – earning an MBA degree.
"In addition to medical school, I am in a healthcare leadership concentration at the USA Mitchell College of Business," Rice said. "Clinical exposure from the Primary Care Pathway Program puts what I learn in class into perspective. It is so motivating to help a patient in the clinic who is struggling with a problem that we recently discussed in class. These experiences are essential to how I plan to practice in clinics. My primary care classmates all have similar experiences and have been an amazing source of support this year."
To learn more, visit the Primary Care Pathway Program web page.
---
---