Revised curriculum focuses more closely on patient-centered care
---
Posted on August 26, 2021 by Casandra Andrews
Casandra Andrews
---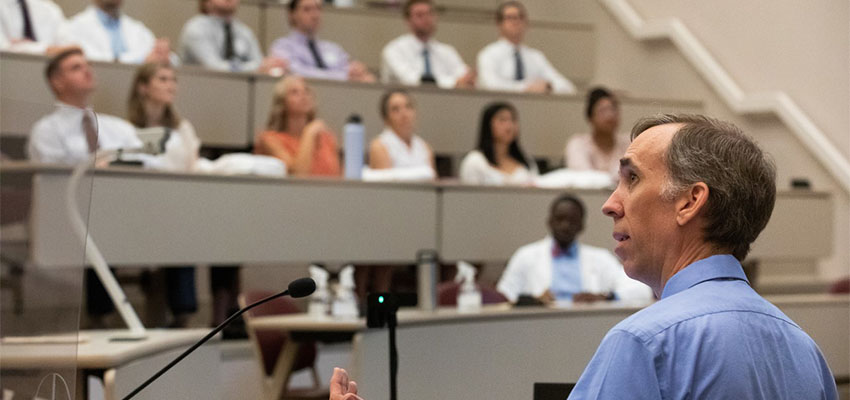 ---
This fall, medical students at the USA College of Medicine are encountering a revised curriculum intended to equip them with the skills to provide better patient-centered care.
A new M1 module will weave in more psychological and social aspects of patients, while revamped clinical skills courses will provide additional hands-on learning and communication tools.
"Some of our overarching goals were to improve the integration of several elements of our curriculum in addition to ensuring that the curriculum more accurately reflects current national expectations for basic science and clinical instruction," said T.J. Hundley, M.D., associate dean for medical education. "We're enhancing clinical science coverage in the first two years with an increasing focus on clinical reasoning early on."
Hundley said the changes have been in the works for a year under the leadership of the curriculum committee.
Treating the whole patient
Patients and Human Structure, a new module for M1s, incorporates the psychological and social aspects of the patient into the teaching of biological components - all explored through the context of diversity, equity, inclusion and anti-racism. The module aims to raise awareness of the unconscious bias and structural forces that can affect a patient's health.
"We're implementing longitudinal content on culturally responsive medicine," Hundley said. "The very first module will have a focus on the patient as a human being - both the anatomical science as well as the psychosocial aspects."
In January, leaders of the Association of American Medical Colleges issued a plea to medical schools to embark on assessing their institutions' education curricula and policies to end racism in medical education. The call came amid a growing awareness of the impact of health inequities and racism on Black and Brown communities in the United States.
Franklin Trimm, M.D., associate dean for diversity and inclusion at the USA College of Medicine and assistant vice president for medical affairs at USA Health, said that culturally responsive medicine centers the patient in every healthcare encounter.
"The physician approaches the patient exploring and acknowledging the culture and beliefs of each patient and is open to learning from the patient," Trimm said. "Practicing culturally responsive medicine also involves the physician being aware of their own culture and life experiences that influence their own biases and working to mitigate any negative impact those biases might have on their patients."
Such approaches build and strengthen the therapeutic alliance between the physician and patient, resulting in improved communication and compliance with healthcare recommendations, he said.
Enhancing clinical skills
The USA College of Medicine also has revamped its clinical skills instruction, the two-year-long training course that runs parallel to the academic modules. In the past, clinical skills instruction has helped to prepare students for the Step 2 Clinical Skills exam, but that exam was canceled permanently after being postponed during the COVID-19 pandemic.
"The fact that the Step 2 CS was eliminated put every medical school in the country into a quandary: 'How are we going to make sure our students are ready to enter their clerkships?'" said Elizabeth Minto, M.D., director of clinical skills at the USA College of Medicine. "'How are we going to make sure our students are prepared to care for patients as part of residency training?'"
Minto and others collaborated with faculty on ways to enhance the clinical skills curriculum.
As a result, the courses shifted from a preparation for the standardized test to a preparation for clinical practice. Students still will learn how to take histories on patients, perform physical examinations and problem solve, but they also will develop their interpersonal communication skills, she said. For instance, students will be assessed on how they communicate during "hand-offs" at shift changes and how they deliver difficult news to patients.
"They are going to have a better sense of what is required to provide patient-centered care and know, based on the assessment they've gone through, what their strengths and weaknesses are," Minto said. "That's an improvement from having a P (for pass) on a Step 2 exam."
Minto also is working to ensure that every student gets the opportunity to observe patient rounds, participate in oral presentations and learn how an inter-professional team works in a healthcare setting. "They will receive much more meaningful feedback," she said. "They will know when they graduate that they are ready to start their internship."
---
---