New options for improving wellness
---
Posted on September 9, 2022 by Carol McPhail
Carol McPhail
---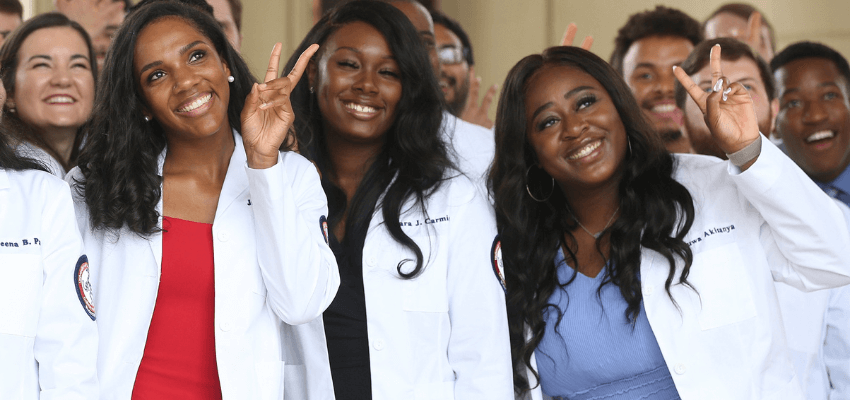 ---
A peer support network and monthly lunch and learns are among the initiatives aimed at helping medical students at the Whiddon College of Medicine improve their wellness and increase resilience.
"We want to provide students with a variety of resources to help them with the mental and emotional demands of medical school," said Becky Smith, Ph.D., L.P.C., N.C.C., health and wellness counselor. "We know that some students would prefer to attend a lunch and learn, while others would rather reach out to a fellow student."
The Peer Emotional and Education Resilience Support (PEERS) network is made up of carefully chosen students at the Whiddon College of Medicine who are admired as leaders, looked up to as mentors and treasured as good friends by their classmates. Over the summer, 19 PEERS team members were selected and completed mental health first aid training.
Ashley Holland of Pensacola, Florida, is one of the PEERS members in the Class of 2023. "I have been lucky enough to have mentors support me through tough times I've experienced throughout my education, and I know how valuable that can be, so I am very passionate about this program," Holland wrote in her website bio.
Information about all PEERS team members and a link to a Google form to contact them can be found on the Wellness Resources page.
Monthly lunch and learn sessions, meanwhile, are open to M1, M2 and Basic Medical Sciences students, and cover a variety of topics ranging from time management and imposter syndrome to growth mindset. Smith, Timothy Gilbert, Ed.D., associate dean for accreditation and planning, and David S. Williams, Ph.D., assistant dean for institutional and academic success, collaborated to create the series to provide holistic support across academics and mental health.
The sessions are formatted in a question-and-answer style, with questions submitted anonymously through PearDeck. One lunch and learn planned for Sept. 14 will feature four residents as guest panelists speaking about "Beyond Grades: Forming an Identity Outside of Academics and Dealing with Impostor Syndrome." Future topics will include "Accepting Failure," "Dealing with Burnout," "Growth Mindset," "Increasing Flexibility in Studying" and "Stereotypes in Medical Specialties."
The monthly lunch and learns are held from noon to 1 p.m. in the Medical Sciences Building auditorium.
In addition, Smith offers confidential counseling for individuals, couples and groups. She can be reached at beckysmith@southalabama.edu.
---
---