Students prepare for Step 1 and Step 2 CK
---
Posted on February 22, 2021 by Kristen Echols
Kristen Echols
---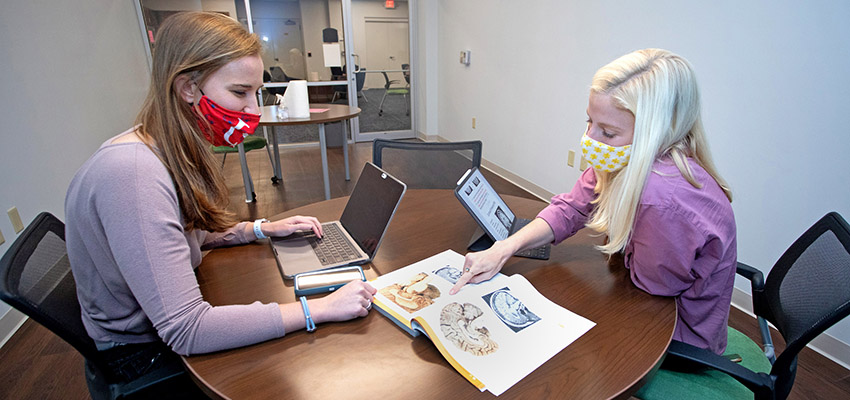 ---
While COVID-19 has shrouded the near future of higher education in some uncertainty, major events that continue to loom on the horizon for second- and third-year medical students are the USMLE Step 1 and part of the Step 2 exam.
"Much of the classwork that medical students complete is designed to prepare them for these exams," said T.J. Hundley, M.D., associate dean for medical education at the University of South Alabama College of Medicine.
"We are expecting Step 1 and Step 2 CK (clinical knowledge) to still be delivered in person and with the same type of setup as in previous years, so preparation for these exams still is the same," he said. Taking practice tests, maintaining a healthy sleep schedule and creating proactive study habits are all still good advice.
Aidan Gilbert, a second-year medical student, has been taking the necessary steps to ensure that he is prepared for Step 1 regardless of the circumstances. "I started doing question banks on the first day of my second year. They're a great tool for learning and reinforcing material that is covered both at the College of Medicine and on the Step 1 exam. I try to get a little studying done every day."
"The College of Medicine has prepared us and given us the tools for success," Gilbert said. "It's up to us now to capitalize on this opportunity."
The main difference for these exams is the test-taking environment.
"Step 1 and Step 2 CK have always been done on computers at Prometric testing centers," said Elizabeth Minto, M.D., director of clinical skills at the USA College of Medicine. "It was briefly suspended due to COVID, but it has been relaunched with sanitizing protocols and limitations on room occupancy. They're booking every other computer to allow for physical distancing."
Masks are required to be worn for the duration of the time at the testing centers.
While Step 1 and Step 2 CK are managing to carry on with new protocols in place to ensure the safety of students, Step 2 CS (clinical skills) has been omitted altogether.
Unlike the previous two exams, Step 2 CS requires medical students to interact with multiple standardized patients and demonstrate their ability to gather patient history, perform physical examinations and communicate effectively with patients. This process is usually done in person at only six testing sites across the United States.
Since it is an exam that requires air travel and relies on face-to-face interactions, it was suspended indefinitely due to the pandemic. There were previous plans to reintroduce the exam using a web-based format, but as of Jan. 26, 2021, the USMLE has permanently discontinued Step 2 CS. It is no longer a requirement for medical students to receive their licensure.
"It's a positive for both students and faculty. The students will save money, time and stress, and faculty can now focus more on preparing students for real-world clinical practice," Minto said.
She added that through all of the challenges and upheaval that the past year has brought, the College of Medicine has been making accommodations to ensure that students are reaching the necessary milestones to graduate on time and start their residencies on time.
"The College of Medicine's response to COVID has shown how flexible and creative the administration and leaders are capable of being, because despite all of this, none of our students' graduation dates are being postponed," Minto said. "I think that's a really big win for the College of Medicine and a silver lining for our students."
For additional information and future updates about the USMLE exams, visit the USMLE website.
---
---